President Tokayev: Two Visits after One Inauguration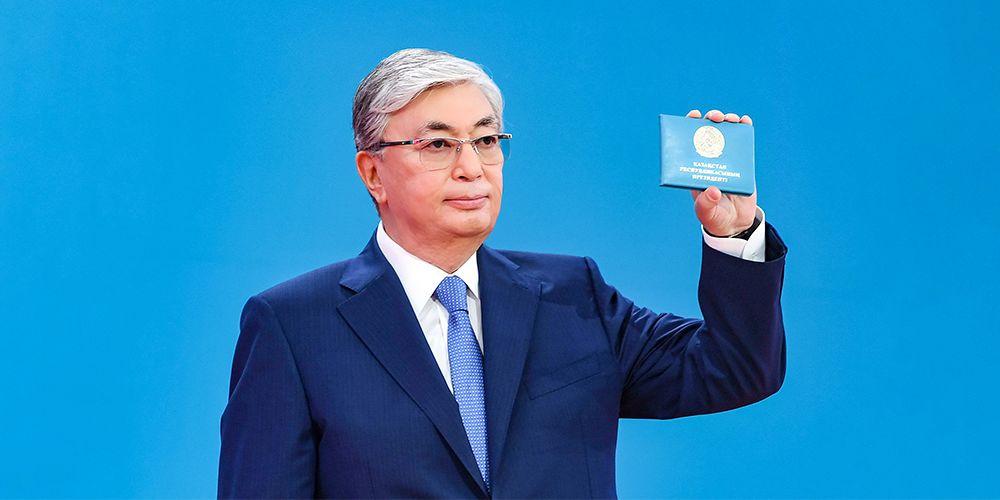 photo: kapital.kz
3 December 2022
Astana's Multi-Vector Policy
On November 28, 2022, Kassym-Jomart Tokayev went on his first official international visit as the newly elected president of Kazakhstan. Russia was the destination of his journey. During the visit, the two sides emphasized its symbolic significance as projection of priorities of Astana's foreign policy. For example, a joint declaration outlined a few key points that are of moment amidst today's geopolitical background, namely those dwelling on strategic alliance, strengthening of the potential of the Collective Security Treaty Organization (CSTO), and further development of bilateral ties.
Meanwhile, even though Astana remains Moscow's closest ally, it consistently and steadily reinforces the multi-vector nature of its foreign policy. In that vein, as he left Russia, President Tokayev visited France on November 29 and 30, where he met with President Emmanuel Macron and a group of influential French businessmen. This second visit was to stress that Kazakhstan still follows its multi-vector policy line, which brings in tangible practical results – for example, in business and high technology. A comparative analysis of the results of President Tokayev's two visits allows us to highlight important forward-looking trends in Central Asia as a new competitive ground for global players.
Notably, these were Kassym-Jomart Tokayev's first international visits after his convincing victory in the presidential election. An updated version of the country's Constitution empowered the Kazakhstani president to lead the nation for another seven years without being eligible for reelection. Mr. Tokayev received more than 81% of the votes in the recent elections, with all of his rivals landing just a few percent. As we noted before, the Kazakhstani president managed to be reelected at a geopolitically complicated time of confrontation between the West and the East, practically right in the «typhoon's eye». [1] Not only did Mr. Tokayev ensure himself an indisputable political leadership in Kazakhstan for the next seven years, but he also strengthened his foreign policy stance in a major way. An experienced diplomat and international negotiator, Mr. Tokayev today is de facto the only political heavyweight in the post-Soviet space who is capable of speaking on equally even terms with Russia, China, the United States and the European Union.
Amidst anti-Russian sanctions, the meaning of Kazakhstan as an important transit territory and a border buffer state has also increased considerably – both as a route for parallel imports and a possible destination for the relocation of valuable personnel and Western enterprises. «[There are] very big plans for the presence of Russian capitals in our country», Kazakhstan's president said at a meeting with Vladimir Putin. «Myself, as the head of state, and my government will do our best to ensure this presence on a permanent basis – naturally, with mutual benefit in mind», he added. All these objective factors will underpin an anticipated rise in Astana's influence and will inevitably manifest themselves within the framework of a multi-vector policy declared by Mr. Tokayev – a policy that is set to be increasingly autonomous and independent. «Kazakhstan's Multi-vector Diplomacy Shines Amid Conflict», was the headline of The Diplomat's article on Kazakhstan's role in international politics. «In recent months, Astana has hosted top leaders and diplomats from China, Russia, Europe, and the United States, underscoring its balanced approach to diplomacy», reminds the influential international publication.
Priorities
According to Russian observers, Mr. Tokayev's official visit to Moscow was intended to demonstrate Russia's special significance as a priority vector for Kazakhstan. There is an iron-clad rule in diplomatic protocol: The first visits of a newly elected head of state always clearly identify a country's foreign policy priorities, both in the «near» and «far abroad». Russian President Vladimir Putin accentuated this momentous fact in his welcoming address to his Kazakhstani counterpart. «Today's visit has a special significance: This is the first visit after the re-election of Kassym-Jomart Kemelevich as president of Kazakhstan. In this sense, it certainly has a symbolic value, [as] it emphasizes the special nature of our relations, [and] we highly appreciate it», Mr. Putin said. During the meeting, President Tokayev himself spoke about the «symbolic meaning» and «political significance» of his visit to Russia. Afterwards, however, he added diplomatically that «on the other hand, it is quite natural, as long as we are talking about cooperation between our countries». [2]
Analysts note that despite the good partnership between Russia and Kazakhstan one can hardly expect close and even warm friendly hugging that Vladimir Putin used to have with Kazakhstan's first president, Nursultan Nazarbayev. President Putin himself made it clear that he was seeing the current relationship between the two countries solely in a pragmatic vein. The Russian leader emphasized that «the economy is the basis of all our other achievements in all areas». The Kazakhstani president fully agrees with this statement. According to him, trade between Kazakhstan and Russia reached a record value of $24.5 billion in 2021, and in the first nine months of this year trade already saw a 5% upswing. Kassym-Jomart Tokayev listed the most important areas of bilateral cooperation, such as road construction, establishment of logistic hubs and economic zones in the border territories of Kazakhstan and Russia, as well as expansion of cooperation in the production of industrial goods and high value-added items.
Regional experts also point to another symbolic event during Mr. Tokayev's visit to Moscow. The two presidents greeted attendees of the 18th Forum of Interregional Cooperation between Russia and Kazakhstan, held in Orenburg, from the Kremlin via video link. The forum was largely focused on the removal of infrastructural restrictions in international trade and cooperation in transport and logistics. The main «know-how» that border forums have always boasted has been direct involvement of the Russian and Kazakhstani presidents in their work. The presence of the two leaders helped address many problems faced by border regions right away, overcome bureaucratic and departmental obstacles, keep track of the execution of official instructions, and give a new impetus to regional cooperation. The importance of interregional cooperation between Russia and Kazakhstan is difficult to overestimate, since cross-border trade accounts for up to 70% of bilateral commodity turnover. According to Mr. Putin, «by now, 76 of the 89 subjects of the Russian Federation have established direct trade and economic relations with Kazakhstani partners».
Outcomes of the Visit to Moscow
Two highlights are worth mentioning among the key outcomes of President Tokayev's official visit to Moscow – namely, the signing of a joint declaration and Russia's proposal to set up a trilateral «gas union». Recall that just last month the two countries celebrated a significant date in their bilateral relations – the 30th anniversary of the establishment of diplomatic relations. «Over this time period, our two nations have been able to build a mutually beneficial strategic partnership based on strong bonds of friendship and good neighborliness», said Kassym-Jomart Tokayev. «A trusting and constructive dialogue has been established between our countries and a high level of cooperation has been achieved. We actively interact within the framework of international organizations and integration associations (UN, CIS, CSTO, EAEU, SCO, OSCE and CICA), which makes a significant contribution to regional security and increases the role of Eurasia at large in global politics and economy». [3]
The signing of the new joint declaration has a major political significance, especially against the backdrop of Russia's special military operation in Ukraine. There has been much talk lately that Astana is allegedly changing its foreign policy vector and that there are some disagreements within the CSTO. Practice shows otherwise. The leaders of Russia and Kazakhstan are working hard to strengthen interaction, since our strategic interests coincide in many areas, from security to economy, from trade to logistics. Regional experts take notice of a key point of the declaration, namely the statement that there is a need to «build up the capacity» of the Collective Security Treaty Organization. Another important emphasis is placed on «sovereignty» and «non-interference in internal affairs». «The Russian Federation and the Republic of Kazakhstan pursue an independent foreign policy aimed at protecting their respective national interests», the declaration says. It means that Moscow and Astana have relative freedom of foreign policy maneuver while respecting the basic principles of their strategic alliance, such as peace and security on their long common border, as well as absence of economic, transit and media wars that might interfere with the two interconnected economies.
Another interesting novelty was Russia's proposal to set up a triple gas union that would include Uzbekistan, in addition to Russia and Kazakhstan. The parties would be able to cooperate in gas transportation, exports, processing and other areas, including deliveries to other export destinations, such as China. [4] Analysts note that Russia, Kazakhstan and Uzbekistan have a common gas transportation system, which has survived since Soviet times. In practical terms, the Bukhara – Urals gas pipeline could carry out reverse operations, which would make it possible to supply the resulting surplus of Russian gas to Central Asia. Today, that region, rapidly growing both demographically and economically, is experiencing a shortage of energy. Gas supplies from Russia would be able to address existing challenges by supplying gas to northern regions of Kazakhstan and to Uzbekistan's enterprises. In addition, there would arise an opportunity to export certain volumes of Russian gas to China via existing pipelines through the territories of Kazakhstan and Uzbekistan. According to Kassym-Jomart Tokayev, however, this new topic still needs a serious study on the expert and government levels of the three countries.
In our opinion, a more down-to-earth topic, but one of priority importance, is the whole range of issues related to the expansion of the Moscow – Astana cooperation in the construction of new logistics and infrastructure routes. The International North – South Transport Corridor (INSTC) plays a key role here, with both Russia and Kazakhstan being crucial to the success of this project. Once completed, constant work on the development of new routes (railways, roads, waterways, subject to the upgrade of ports and ships) would result in a fundamentally new geo-economy in the Southeast. Creating a new model of equitable economic cooperation within the framework of a «transport oligopoly» between Russia and Kazakhstan is essential today, especially given the current international situation and the onset of Western sanctions. It is a matter of ongoing political dialogue and joint planning of new steps both in the bilateral format and within the framework of trans-Caspian and Caspian cooperation. President Tokayev, as an experienced diplomat, is well aware of the multitude of conflicting interests of various countries with respect to Kazakhstan and probably takes into account all the risks and adversities of a possible deterioration of strategic relations with Russia.
A Visit to France
From the standpoint of diplomatic protocol, the Kazakhstani president's visit to France was a symmetrical reiteration of the dignitary's visit to Moscow. A reception at the highest level, military bands and guards of honor, red-carpet treatment and meetings were also part of the program, down to important symbolic details. For example, French President Emmanuel Macron received Kazakhstani President Kassym-Jomart Tokayev at the Élysée Palace and pointed out in his speech that this was «President Tokayev's first official visit to Europe after his re-election». The press service of the Kazakhstani president said after the meeting that the two sides had discussed the development of a «strategic partnership» in the economy, «exchanged views on strengthening ties in the spheres of education and culture, and also discussed topical issues on the international agenda and the situation in Central Asia». The «international agenda» obviously meant, first and foremost, the settlement of the conflict around Ukraine.
The French media discussed as the main mystery of Mr. Tokayev's visit whether he had delivered some «secret message» to Mr. Macron from Mr. Putin. [5] Observers pinpointed the fact that immediately after his meeting with Mr. Tokayev President Emmanuel Macron flew to the U.S., where he was to spend five days (from November 29 to December 3) and meet with President Joe Biden. There was some speculation that Kazakhstan's president, who is trying to maintain external «neutrality» on the issue of Russia's special military operation in Ukraine but continues to have personal meetings with Vladimir Putin, could act as an intermediary transmitting «signals» from Moscow to Paris and Washington. As a reminder, at the CSTO summit just recently, Mr. Tokayev had called for a «joint collective search for a peace formula» in Ukraine. «We must not let it happen that the fraternal Russian and Ukrainian peoples would be divided for decades, if not for hundreds of years, with unhealed grievances», the Kazakhstani president said at the time. Kremlin spokesman Dmitry Peskov hastened to say that Mr. Putin had not delivered «any messages» to Mr. Macron through Mr. Tokayev, but this statement only inflamed passions in the Western media.
On a different note, a prolonged conflict in Ukraine may indirectly contribute to the strengthening of existing cooperation between Kazakhstan and the European Union, noted the French magazine L'Express. «Kazakhstan accounts for 90 percent of France's trade with Central Asia. The two countries jointly implement effective projects in the fields of energy, mining, consumer industry, construction, aerospace, machine-building, healthcare and food industry. More than 170 French companies and joint ventures operate in Kazakhstan», the Akorda press office noted after Mr. Tokayev's meeting with Mr. Macron. It is emphasized that in terms of trade, Europe is Astana's leading partner, far ahead of Russia and China. Moreover, Kazakhstan is the only Central Asian country that has signed an enhanced partnership and cooperation agreement with the EU, which entered into force in 2020. Last year, Kazakhstan and France approved a roadmap for trade, economic and investment cooperation through to 2030.
As it has become evident, the Paris talks were largely dominated by the establishment of a strategic partnership with Kazakhstan, primarily in energy. «In light of the current uncertainty with energy security in Europe, independent Kazakhstan intends to keep it up as a reliable and trustworthy energy partner», reported the TV channel France 24. Indeed, President Macron made a special emphasis on that, saying that «Kazakhstan is France's strategic partner. Trade and economic relations are actively developing between the two countries, with joint projects implemented in the energy sector». These French-Kazakhstani projects involve a wide range of activities, from hydrocarbon and uranium supplies to the construction of nuclear power plants and the transfer of advanced technologies. «The two countries are currently pursuing a strategic rapprochement. France is in dire need of reliable sources of hydrocarbons, which Kazakhstan can provide. In addition, France wants to sell its nuclear power plants to Kazakhstan in order to reduce its huge trade deficit», the influential newspaper Le Figaro noted in this regard.
The Outcome of the Talks in Paris
Among the key outcomes of Kassym-Jomart Tokayev's official visit to France, three momentous things should be noted, including a joint statement of the two heads of state, the signing of an impressive package of 35 interstate agreements, and the meeting of the Kazakhstani president with senior executives of French businesses. In their joint statement, the leaders of the two countries expressed, above all, «satisfaction with a confidential and regular dialogue between their nations at all levels». Special emphasis was given to the fact that «Kazakhstan is France's main economic partner in Central Asia, and France is one of the major investors in Kazakhstan's economy». In the economy, high potential for further development of trade and investment, especially in energy, as the key sector, was underlined. «Kazakhstan is a major supplier of uranium and crude oil to France. The parties agreed to develop cooperation with regard to critical commodities, including rare earth metals», the statement said. [6] Thus, in the near future, Kazakhstan is set to become an important partner of France and the European Union at large in the development of advanced technology.
It is important to realize that this statement is not an empty political declaration of intentions, but a thoroughly worked-out roadmap for cooperation. Among the papers signed during Mr. Tokayev's well-prepared visit to France, there was a large package of documents related to renewable energy, the production of «green hydrogen», peaceful use of atomic power, water resource management, rail transport, and agribusiness. [7] Of the three dozen agreements, Kazakhstani analyst Marat Shibutov singles out two in particular. These are a memorandum on cooperation in the peaceful use of atomic energy between Kazakhstan's Ministry of Energy and France's Ministry of Ecological Transition and a memorandum of understanding on technical cooperation in the management of radioactive waste. Essentially speaking, these documents pave the way for French businesses to strategic projects in Kazakhstan – in particular, building of new nuclear power plants, which were previously considered as priority assets in Rosatom's portfolio. Kazakhstan believes that, plagued with sanctions, Russian general contractors will not be able to meet their obligations in full and on time, so it would be wise to diversify risks.
Another significant point of the Macron – Tokayev joint statement is «the launch of major transport initiatives in Central Asia, in particular those that concern the development of the Trans-Caspian international transport route». It is specifically noted that the heads of state «expressed their support for the implementation of the European Union's Global Gateway project». This item was included afterwards into an agreement signed between the government of Kazakhstan and Alstom Holdings SA on the implementation of projects, production and service of electric locomotives and equipment for the rolling stock and railway transport infrastructure in Kazakhstan. «Amidst the expanding Sino-European trade, Kazakhstan should also become an important transportation and logistics hub between Europe and China», said L'Express. French observers note that the redirection of some of China – Europe trade flows through Kazakhstan would boost new routes of trans-Caspian cooperation, particularly with Azerbaijan, for the export of Kazakhstani oil to European markets. As we can see, not only Russia as an immediate neighbor but also faraway countries of the European Union are well aware of the strategic importance of Kazakhstan as a transit territory.
Appraisals and Meanings
In appraising the outcomes of the Paris visit, the most revealing moment could be Kassym-Jomart Tokayev's meeting with senior executives of major French companies. The event, impressive by its scale, was attended by CEOs of Total Energies, Orano, Saint-Gobain, Boehringer Ingelheim France, Soufflet Group, BPI France, Vicat, Syctom, Pellenc, the charcuterie association FICT, Total Eren, PCM, Safran, Thales, Groupe EDF, Assystem, Alstom, Evolution International, MHB SAS, Exa International, Airbus, Rungis Semmaris, MBDA, SOPREMA and others. [8] Kassym-Jomart Tokayev told the French businessmen that the international community today was facing complex geopolitical and economic problems. According to him, new challenges open up new opportunities. «We want to establish relations with France and Europe as a whole to further our common economic and political interests», the Kazakhstani president stressed. He noted that international partners had invested about $15 billion in Kazakhstan's economy in the first six months of 2022, or 30% more than last year. He added that his country was planning to accept $150 billion in direct foreign investment over the next seven years. «Our investment policy will be undergoing constant improvement, so that Kazakhstan remains the most attractive place for investment in Central Asia», Mr. Tokayev concluded. At the same meeting with representatives of the French business community, the president of Kazakhstan listed top priorities of bilateral cooperation, notably the energy sector, transport, logistics, and digitalization.
Kazakhstani media pay special attention to the cooperation with France in nuclear energy and new renewable energy sources. For example, Total Energies has already invested $12 billion in hydrocarbon production in Kazakhstan and intends to remain a major investor in the future. The company has proposed a new project, construction of a 1-GW wind power plant in southeast Kazakhstan, with projected cost of $1.9 billion. Électricité de France (EDF) CEO Luc Rémont offered advanced technologies in the nuclear energy sector and proposed a number of renewable energy projects. Claude Imauven, Chairman of the Board, nuclear corporation Orano S.A., said that the KATCO joint venture already accounted for 15% of Kazakhstan's annual uranium production and for 7% of the global production, and intended to expand its operations. President Kassym-Jomart Tokayev said in turn that discussion of uranium cooperation between Astana and Paris was another important issue of his talks with Emmanuel Macron. France is the world's main consumer of uranium, but it does not have uranium deposits of its own. Today Paris is eyeing to replace its traditional uranium suppliers, i.e. some of its former colonies in Africa, with new partners based in Central Asia. This creates a paradoxical situation: Moscow has worked hard over the past decade to squeeze French vested interest out of Africa, but in return may see French presence in its Central Asian «soft underbelly».
Analysts note that the Kazakhstani leader's visit to Paris was important specifically in terms of the development of France's long-term relations with Central Asian countries. «We continue to show our Central Asian partners the importance we attach to their region, which is sandwiched between China and Russia and needs to open up new horizons», said a statement issued by the Élysée Palace. AFP reminded that President Emmanuel Macron had recently met with Emomali Rahmon, president of Tajikistan, and Shavkat Mirziyoyev, president of Uzbekistan. «This is further proof of the French interest in this key region, which Paris and the European Union do not want to leave under Russian, Chinese, Turkish or American influence», AFP emphasized. Experts point out that during Shavkat Mirziyoyev's recent visit to Paris, a similar agreement was signed to expand cooperation in uranium exploration and mining. [9] In that regard, Uzbekistan envisages doubling uranium production to 7,100 tons between 2022 and 2030 in order to help the French nuclear industry. In addition, a nuclear technology exchange mechanism is expected to be launched, allowing Uzbekistan to cater to the French industrial model in the «nuclear fuel value chain».
Sources in Akorda say that France is poised to become a reliable and promising partner for Kazakhstan in the European Union, a partner that not only offers significant investments, but also exports modern technology, including most advanced solutions. In turn, for French companies, Kazakhstan appears to be a good platform for the implementation of major projects and a kind of business springboard for expansion into the promising region of Central Asia. Regional experts recall that when Kassym-Jomart Tokayev was at the helm of the Ministry of Foreign Affairs of the Republic of Kazakhstan, a draft of the nation's new foreign policy concept was discussed privately in its offices. In particular, it said that the traditional triad of global players, i.e. the U.S., China and Russia, prefer a brutal style of politics and demand complete loyalty from their partners. The European Union, on the other hand, could be a safer and softer moderator for the countries of Central Asia, as well as a source of investment and a supplier of new industries and high technology. Among all EU countries, France was to be given the priority, as a country that Mr. Tokayev himself has a special cultural and political affinity with. There is good reason to believe that the principles of that draft doctrine of old are now being applied in practice.
What Lies Ahead?
What is Russia to do in this situation? It seems that Moscow today could give Astana relative freedom of foreign policy and economic maneuver, primarily in exchange for ensuring peace and security on the world's longest common land border.
A second important point of a new informal alliance treaty could be a kind of non-aggression pact that rules out economic, trade, transit, and media wars in the context of the current interconnectedness of the economies and infrastructure of the two countries.
A third point could be joint participation of Russia and Kazakhstan in the reshaping and upgrade of international transport corridors, subject to unimpeded transit, taking into account the interests of all stakeholders.
A fourth, and less public, point should be the use of Kazakhstan and other Central Asian countries as a kind of «gateway» for financial and trade transactions fashioned like parallel imports. Of course, all the external attributes of the sanctions regime are to be put in place and respected.
A fifth important point could be the use of Kazakhstan as a buffer state for the relocation of Western enterprises and valuable personnel from Russia – in order to preserve important technologies and a critical range of goods in the Russian market.
From a geo-economic point of view, Russia will probably find itself behind an «iron curtain» of sorts in the coming decades. During the Cold War, the «iron curtain» was often overcome with the help of outwardly neutral countries, such as Finland and Austria. Basically, the role of such new «neutrals» today could be effectively fulfilled by Kazakhstan and Uzbekistan, which can perform the functions of suppliers of new European technologies. Ultimately, a coherent and well-thought-out concept of «Finlandization» of Central Asian countries could emerge as a result, and a «second Tashkent front» could be opened there, after a historically charged example of evacuating critical enterprises and personnel to safe areas in the country's interior. Certainly, this concept of new «Finlandization» in the Southeast should be subject to comprehensive discussion at the expert and governmental levels.
1. Trumping victory of Kassym-Jomart Tokayev and re-start of Kazakhstan political system. Caspian Institute of Strategic Studies (CISS), 21.11.2022. https://caspian.institute/product/kazakhstan-sector/trumping-victory-of-kassym-jomart-tokayev-and-re-start-of-kazakhstan-political-system-38402.shtml
2. His first visit after being re-elected president of Kazakhstan Tokayev makes to Moscow. Vedomosti, 29.11.2022. https://www.vedomosti.ru/politics/articles/2022/11/29/952553-pervii-vizit-posle-pereizbraniya-tokaev-sovershil-v-moskvu
3. Strategic allies: What Kazakhstani president's visit to Moscow speaks of. Gazeta.ru, 30.11.2022. https://m.gazeta.ru/politics/2022/11/30/15861319.shtml
4. Russia, Kazakhstan and Uzbekistan are discussing the possibility of creating a gas union. TASS, 29.11.2022. https://tass.ru/ekonomika/16449755
5. French media find a «special meaning» in cooperation with Kazakhstan and Tokayev's visit. Tengrinews, 29.11.2022. https://tengrinews.kz/world_news/frantsuzskie-smi-nashli-osobyiy-smyisl-sotrudnichestve-484582/
6. Joint statement by Tokayev and Macron published by Akorda. Kazakhstanskaya Pravda, 30.11.2022. Available in Russian and in English (select language): https://kazpravda.kz/n/sovmestnoe-zayavlenie-tokaeva-i-makrona-opublikovala-akorda/
7. 35 documents signed following Tokayev's visit to France. SPUTNIK-Kazakhstan, 30.11.2022. https://ru.sputnik.kz/20221130/po-itogam-vizita-tokaeva-vo-frantsiyu-podpisany-35-dokumentov-29905716.html
8. The head of state holds a meeting with France's corporate leaders. Official website of the President of the Republic of Kazakhstan, 30.11.2022. https://www.akorda.kz/ru/glava-gosudarstva-provel-vstrechu-s-kapitanami-biznesa-francii-30105045
9. Uzbekistan and France agree to expand uranium mining and processing. Gazeta.uz, 24.11.2022. https://www.gazeta.uz/ru/2022/11/24/uranium/