Russia and China: defense lines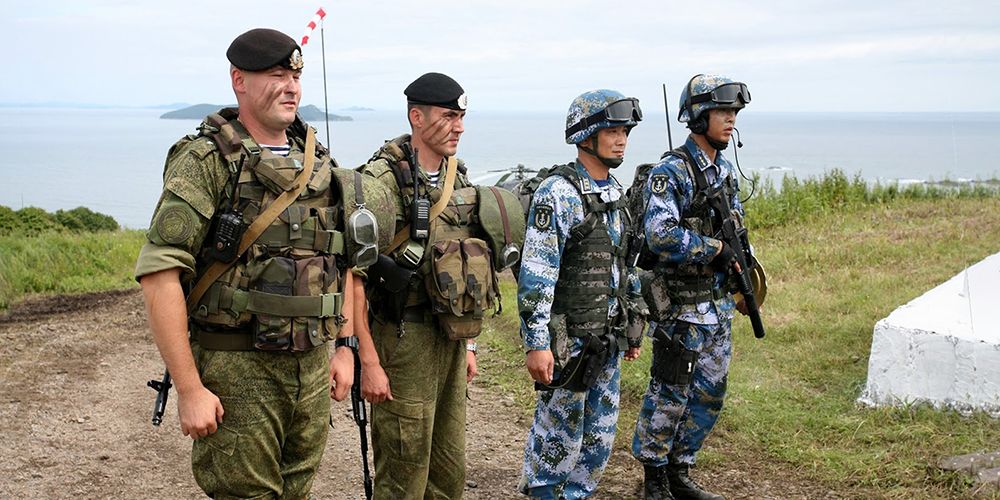 photo: blogspot.com
12 September 2023
Together against common threats and challenges
Military and political situation in the world dictates the need for further structural changes in the non-allied format of Russian-Chinese partnership and strategic cooperation. NATO expansion eastwards, situation in Ukraine put forward Russia to the first line of struggle against American expansionism leaving China for the time being in the second line of defense. Given the actively unfolding «NATO globalization» in the Asia-Pacific Region (APR), founding by the USA and its allies of new military blocs and projects in Eastern Asia and actual preparation for a big Asian war, the Chinese line may quickly turn into the main fighting front.
On November 23, 2021 before the Russian special military operation (SMO) was launched the Russian and Chinese Ministers of Defense signed a «Road map for the development of military cooperation between the Russian Federation and the People's Republic of China for 2021-2025». With regard to the current military and political realities and intensification of the western strategy for «double deterrence» of Russia and China certain additions to this important document are required. The visit by the PRC's Defense Minister Li Shangfu to Moscow in April 2023, his negotiations with Sergei Shoigu and the meeting with the Russian President Vladimir Putin confirmed a high level of Russian-Chinese cooperation and willingness of the parties for further deepening and diversification of military, technical and strategic cooperation.
The scheduled visit by the Russian President to Peking to the III Forum of the Chinese initiative «One Belt, One Road» (OBOR) in October 2023 will also become a new important stage in the deepening of not only political/diplomatic and commercial/economic part of our cooperation, but also in further updating of military and strategic parameters, consistent continuation of a dialogue between the two leaders who had met in Moscow in March 2023.
Cooperation in Eastern Asia
The current situation in Eastern Asia shows aggravated threats to Russia and China. It is well known that there is just one American security system built on the allied foundation in the past fifty years on the basis of bilateral treaties of the USA with Japan, South Korea, the Philippines and complemented by the established format of AUKUS (USA, UK, Australia) and decisions of the trilateral conference of Washington, Tokyo and Seul on security in Camp-David (USA) in August 2023.
The main feature of the present system is the strategy of «triple targeting» simultaneously against China, Russia and North Korea, ousting them from the security zones to the APR periphery and full US domination in this part of the world. Obviously, the current situation and growing challenges objectively make the three states expedite the establishment of their own, alternative structure of regional security, which will be formed on a different, non-bloc basis, will have a different military and strategic institutionalization, but will be not less effective and powerful in terms of neutralizing external threats and upholding their living space and sphere of interests.
Obviously, for further formation of this system it will be necessary to deeply study operationally and strategically the zones of naval and land «integration» of the three armed forces, to determine priorities and particular features of each of them, to develop scenarios and variants of response to provocations and aggression by the USA and its allies in each potentially conflict-ridden «grid square». Scheduled naval exercises of the RF, PRC and DPRK will allow them to commence drilling in the options of such cooperation.
Hypothetically, six tentative conflict zones can as yet be seen as of today:
Taiwan and coastal waters;

South China Sea (SCS) and the zone of disputed islands of the Spratly archipelago;

Korean peninsula and the 38th parallel of the demilitarized zone (DMZ);

East China Sea (ECS) and the zone of disputed islands Diao Yu Tai/ Senkaku;

Strait of Malacca;

Russian South Kuril islands.
With that, under the conditions of growing tension in the world and in this region, in particular, it is quite possible that new «explosive points» will appear, including the Pacific islands micro-states where the USA builds new military bases etc.
Taking into account that main emphasis in naval planning is made on the resources of Russia and China, it appears that it will be necessary to elevate the level of bilateral strategic consultations, as well as naval exercises. The parties should achieve coordination, detection of American and US allied naval groupings, including analysis of scenarios of their naval or air destruction. At this phase it is important to provide and expand joint ABM defense in Asia, including especially sensitive and vulnerable zones of potential destruction in the RF, PRC and DPRK.
Bilateral relations
The current Russian-Chinese model of 2023 reflects the entire spectrum of complexities, contradictions and challenges of the modern world in the conditions of «war time», processes of internal and external mobilization of the two states. Russia considers China as her «eastern rear», as a most important resource of political, diplomatic and economic support. PRC visualizes Russia as her «northern rear» in the conditions of aggravated relationship with the USA. In this model main emphasis is placed on the geo-political and military-strategic components.
The new «roadmap» was really launched at the March meeting of Vladimir Putin and Xi Jinping in Moscow and during Mikhail Mishustin's visit to China on May 23-24, 2023. Regrettably, a part of applied trade-economic, investment, technological, innovative, banking and financial projects is restrained by a number of objective obstacles and circumstances related to some influence on the PRC by the US anti-Russian sanctions policy.
An important area of bilateral cooperation is the bank-to-bank collaboration. Regrettably, a number of Chinese commercial banks sometimes avoid cooperation and joint interaction with the Russian partners under the threat of the American sanctions regime. On the financial markets of payment for goods and services, in investment options problems arise for Russia.
It is obvious that for further intensification and accomplishment of missions to reach a turnover of 200 billion dollars assigned by the leaders of our states and in the future it will be necessary to form in the PRC a certain package of preferences for the Russian banks in order to overcome the sanctions regime and to intensify bilateral trade-economic, investment and technological cooperation. In our view, such preferences must be backed up by a political decision taken as a special decree by the CPC Central Committee.
The main political trackway for our two states is the issue of limits of coming closer together. Russia and China successfully fill in today's optimal form – «comprehensive partnership and strategic cooperation» – with unofficial allied content. This allows China, on the one hand, not to violate the principles of non-bloc diplomacy, while, on the other hand, to oppose western blocs and alliances together with Russia.
Bilateral Russian-Chinese military and technical cooperation (MTC) now undergoes a rather radical renewal. While the 1990-s – 2000-s saw mass Russian supplies to China of a wide range of weapons, now, given the growth of China's military and industrial complex which organized the production of domestic types of quality military products, cooperation became more 'pin-pointed' with a focus on increasing mutual sales of high-tech products.
Under the conditions of MTC with Russia the nomenclature of special Chinese goods may be extended through supplies of components for electronic reconnaissance equipment, space geolocation assets, unmanned aerials vehicles, special optics and individual types of metals and materials. While this occurs, Russian supplies of armament types strategically important for China, may, respectively, be increased as well.
Russian-Chinese meeting points in other parts of the world are, to a large extent, related to the problem of strengthening the positions of Moscow and Peking in the field of security and to enhanced competition with the collective West.
At this phase it is necessary, in our view, to highlight several priority areas and subjects of such cooperation:
Activation of joint work of Russian and Chinese medical and biological entities in order to detect new threats of pandemics and virus contaminations designed and prepared in the American military laboratories;

Development of a program in order to prevent the USA from militarization of space and expansion of joint space projects;

Moving forward in the Cuban direction, development of investment, trade-economic, military and technical cooperation in the Russian-Cuban and Chinese-Cuban formats, including possible deployment of joint reconnaissance radar and electronic intelligence centers in Cuba;

Expanding the activities of Russian private military companies (PMC) in Africa and providing the security of Chinese and Russian companies operating in the African continent countries;

Updating the RIC project (Russia, India, China), consistent efforts to break India away from American alliances, political and military influence.
Summing up the above-mentioned issues of bilateral and multilateral cooperation it is worth initiating the establishment of a continuous Russian-Chinese expert-analytical channel focused on military-strategic, military-technical, technological, biological, information security together with the governmental entities and non-governmental leading think tanks in Russia and China. This project will make it possible to pool together academic and applied, specialized knowledge and competencies, to concentrate efforts of the two states on this most important matter that determines the future of our two nations and civilizations.