New level of cooperation: in follow-up of President Tokayev's visit to Ankara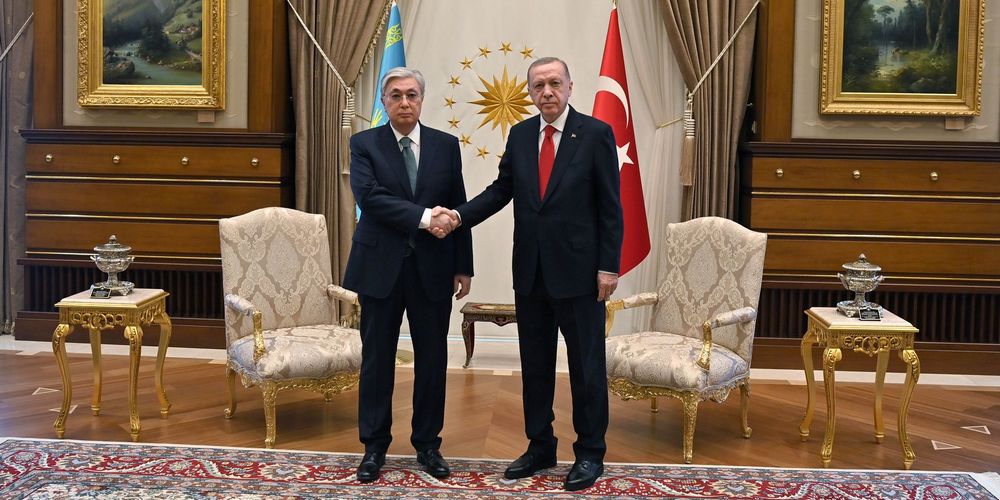 photo: akorda.kz
20 May 2022
On 10-11 May 2022, the President of the Republic of Kazakhstan was in Ankara with a state visit. Kassym-Jomart Tokayev had negotiations with Recep Tayyip Erdogan first with restricted attendance and then in extended format. Kazakh and Turkish leaders discussed a broad range of issues related with the bilateral strategic partnership with a special focus on strengthening the ties in political, trade and economics, as well as in cultural and humanitarian spheres. What is behind these dry official news headlines?
New level of cooperation
The visit of Kassym-Jomart Tokayev, the President of the Republic of Kazakhstan, to Ankara had the highest status according to the ranking adopted in international practice. The observers paid attention to a number of specific features. It was the first official visit of Tokayev to Turkey during almost 3.5 years of his staying in office. The number of the signed agreements, the very busy agenda and a strong makeup of the delegation – all these factors a very impressive.
Thus, practically all the members of Kazakhstan Cabinet were present at the meeting between the two leaders. The following members of Kazakh delegation were spotted: Yerbol Karashukeyev, Minister of Agriculture; Askhat Aimagambetov, Minister of Education and Science; Kairbek Uskenbayev, Minister of Industry and Infrastructure Development; Dauen Abayev, Minister of Culture and Sports; Askar Umarov, Minister of Information and Social Development; Bagdat Mussin, Minister of Digital Development, Innovation and Aerospace Industry; Serikkali Brekeshev, Minister of Ecology, Geology and Natural Resources; Bolat Akchulakov, Minister of Energy; and Colonel General Ruslan Zhaksylykov, Minister of Defense.
The outcomes of Ankara negotiations between the Presidents of Kazakhstan and Turkey in extended and restricted formats were very impressive: the parties signed 14 cooperation agreements and 30 commercial agreements. The documents stipulate for cooperation in transportation, defense industry, military intelligence, information technology, culture, agriculture, transit, trade, customs control, environment, education, youth policy, communications and archive-keeping. [1]
According to the Ministry of Defense of the Republic of Kazakhstan, signing the documents «regulating the bilateral military cooperation between Kazakhstan and Turkey» stirred the most interest. The observers highlighted that quite a long meeting between Colonel General Ruslan Zhaksylykov, Kazakhstan Minister of Defense, and Hulusi Akar, Turkish Minister of Defense, took place in Ankara. Then Zhaksylykov visited the Special Operations Center of Turkish Armed Forces. Hulusi Akar emphasized the importance of expanding Turkish-Kazakh defense connections, «including in holding joint military exercises and in defense industry».
Here is a perfect example of such cooperation – a line for assembly and servicing Turkish unmanned combat aerial vehicles (UCAV) Anka will be organized on the basis of a Kazakhstan Engineering subsidiary. Kazakhstan will be the first foreign country to organize manufacturing of the new generation of Anka UCAV. According to the MOU signed by Turkish Aerospace Industries and Kazakhstan Engineering, «in addition to the joint manufacturing, cooperation will take place in transfer of know-how including the servicing and maintenance processes», the company communication says. [2]
Regional experts believe that Turkey strives for taking on Kazakhstan arms market. Eventually, Erdogan wants to turn Kazakhstan into a high-potential ally country linked to Ankara by cooperation in Turkish know-how, intelligence data and military standards. On the Other hand, Nur-Sultan aims to diversify its geopolitical risks in the environment of progressing global turbulence. So, Kazakhstan leaders believe that Turkey may become a partner they could count on in case of force majeure. [3]
The recent visit to Ankara was marked by an important joint statement by Kassym-Jomart Tokayev and Recep Tayyip Erdogan on the «extended strategic partnership». Kazakhstan and Turkey executed the strategic partnership agreement back in 2009. However, the parties just issued political declarations and enhanced their trade and economic ties, as well as cooperation in cultural and humanitarian spheres. Today we can see a game-changing breakthrough towards closer military and political cooperation.
List of the signed documents
In the presence of the Presidents of Kazakhstan and Turkey the official delegations' members signed the following documents:
Protocol on collaboration between the Ministry of Culture and Sports of the Republic of Kazakhstan and the Public Archives Authority of the Republic of Turkey.

Memorandum on cooperation in mass media between the Ministry of Information and Social Development of the Republic of Kazakhstan and the Communications Authority of the Republic of Turkey.

Intergovernmental Agreement between the Republic of Kazakhstan and the Republic of Turkey on international multimodal freight transportation.

Terms of Reference for the Services Trading Agreement between the Republic of Kazakhstan and the Republic of Turkey.

Intergovernmental Agreement between the Republic of Kazakhstan and the Republic of Turkey on organizing information exchange and simplifying the customs control procedures.

Memorandum on cooperation in forest management between the Forest Management and Fauna Committee of the Ministry of Ecology, Geology and Natural Resources of the Republic of Kazakhstan and the Forest Management Division of the Ministry of Agriculture and Forest Management of the Republic of Turkey.

Intergovernmental Agreement between the Republic of Kazakhstan and the Republic of Turkey on cooperation in quarantine and plant protection.

Memorandum on cooperation in information technologies between the Ministry of Digital Development, Innovation and Aerospace Industry of the Republic of Kazakhstan and the Ministry of Industry and Technologies of the Republic of Turkey.

Intergovernmental Protocol between the Republic of Kazakhstan and the Republic of Turkey on cooperation in military intelligence.

Intergovernmental Protocol between the Republic of Kazakhstan and the Republic of Turkey on cooperation in military archives, military history, museum studies and military publications.

Intergovernmental Agreement between the Republic of Kazakhstan and the Republic of Turkey on cooperation in education.

Memorandum of Understanding between the Ministry of Culture and Sports of the Republic of Kazakhstan and the Ministry of Culture and Tourism of the Republic of Turkey in cinematography.

Memorandum of Understanding between the Ministry of Information and Social Development of the Republic of Kazakhstan and the Ministry of Youth and Sports of the Republic of Turkey in youth policy.

Memorandum of Understanding between the Ministry of Ecology, Geology and Natural Resources of the Republic of Kazakhstan and the Ministry of Environment, Urban Development and Climate Change of the Republic of Turkey on cooperation in environment protection.
Based on the outcomes of negotiations the President of Turkey Recep Tayyip Erdogan and the President of Kazakhstan Kassym-Jomart Tokayev signed the Joint Declaration on Extended Strategic Partnership.
Evaluating the visit
Turkish media called the first official visit of Tokayev to Ankara a «historic visit» and even «the start of the new era in the relations between the two countries». As the result of the negotiations the President of Turkey Recep Tayyip Erdogan called Tokayev his «brother» and emphasized that he believed Kazakhstan to be «the historical homeland of the Turks, and Turkey – a second home for the Kazakhs». The Turkish leader also stated that «thanks to the signed joint declaration» both Turkic countries «raised their relations to the new level of strategic partnership». The positions of Nur-Sultan and Ankara coincide on many issues, for example, on the situation in Ukraine. According to Erdogan, this conflict emphasized the importance of cooperation and solidarity of the Turkic states on the bilateral level and under the umbrella of the Turkic states.
In his turn, Kassym-Jomart Tokayev called the negotiations very «substantial». He emphasized that valuable agreements were achieved in the course of the visit allowing for «even stronger cooperation in political, trade and economic, investment, cultural and humanitarian, techno-military and other spheres». In particular, both parties are interested in utilizing the potential of Trans-Caspian international transportation route by-passing Russia. Let us remind here, that this route begins in China and goes through Kazakhstan, the Caspian Sea waters, Azerbaijan, Georgia and then to Turkey and European countries. Today this Trans-Caspian route becomes especially important in the context of complicated geopolitical situation and sanctions imposed on Russia by the West.
Media and experts in Kazakhstan, in their turn, called the decision of Ak-Orda to raise the relations with Turkey to the level of «extended strategic partnership» important and even «momentous». The official newspaper in Kazakh language Egemen Kazakhstan illustrated Tokayev's visit to Ankara by an extensive front-page story under a long title «Strong brotherly relations or Kazakhstan and Turkey getting to the level of extended strategic partnership». The official newspaper in Russian language Kazakhstanskaya Pravda presented as the leading story an extensive article called «Kazakhstan and Turkey: strengthening the strategic partnership» with a big picture of Erdogan and Tokayev together.
The majority of the pro-government Kazakhstan media especially highlight signing the documents in the military cooperation sphere. They emphasize the following phrase in the statement by the Turkish President: «we are ready to take responsibility for stability, tranquility and safety of our Kazakh brothers». Officials in Kazakhstan understand this statement as follows: «In case of any real threat, the Turkish army men may come to Kazakhstan's help. Nur-Sultan, in its turn, may ask Ankara for help in case of need», Sultan Kamaletdinov, Deputy Minister of Defense explained to journalists behind the scenes of Kazakhstan parliament. [4]
Dosym Satpayev, a popular Kazakhstan political analyst, highlights that «this is an obvious signal to Russia that Turkey is ready to support Kazakhstan in case there are evident threats for its territorial integrity». A number of online media publish even more undisguised statements. «Kazakhstan's refocus on the West via Ankara becomes a political reality, which is fortified by Tokayev's visit to Turkey. And it means not just developing the standard cooperation, but the change of the country's development vector and deepening the integration with the neo-Osmanli Turkey». Basically, this is a common propaganda message for domestic use in many local media. [5]
Certain media outlets went even further, they talk about the revival of the Great Turan 2.0 – in the area from the Mediterranean Sea in the West to the Altai mountains in the East. Here is just one quote from an article of that sort: «In the context of upheaval in geopolitics, maybe, for the first time starting from the USSR collapse we can see signs of a fatal U-turn of Kazakhstan and Central Asia away from Russia. Politics is the art of the possible, so, of course, we are not talking here about a complete alienation or a revision of the development vector. However, from now on «the Northern neighbor» is no longer the holder of the controlling interest. The Republic of Turkey now steps up to play the role of one of the points of dominance». [6]
Russian media are more reserved in their assessments of Tokayev's visit to Ankara, they call against any hasty judgements: «In the context of growing economic and political alignment of Kazakhstan and Turkey, Tokayev's visit becomes especially meaningful. Especially if we take into account the overall activation of Turkey in Central Asia. However, it will be difficult for Turkey to compete against Russia, China and Western countries. Nevertheless, Turkey has certain trumps in its hands, and the main one is complicated geopolitical situation. Kazakhstan understands this and successfully utilizes its multi-vector policy diversifying its top-level political contacts and its economy in the context of the tough sanctions against Russia». [7]
Let us calmly analyze the media's fears and enthusiasm accompanying the state visit of C.-J. Tokayev to Ankara.
The Turkish vector of Kazakhstan
Turkey has a special role in the history of independent Kazakhstan. It was the first country to recognize the independence of the Republic of Kazakhstan immediately after it was proclaimed on 16 December 1991. Turkey was the first to open its embassy in Almaty, which was the capital of Kazakhstan at that time. Already on 2 March 1992, diplomatic relations were established between the two countries. On 21 April 1992, the first Turkish Ambassador to Kazakhstan Argun Ozpai delivered his credentials to the first President of Kazakhstan Nursultan Nazarbayev. Another meaningful fact: Turkey was the first country to establish visa-free regime with Kazakhstan for mutual visits of the citizens of both countries. In fact, Turkey was the first «real foreign country» for Kazakhstan and a cultural and civilization example for many years.
Overall, the citizens of Kazakhstan perceive Turkey as a friendly state, which can be seen from sociological surveys of Integration Barometer of EDB (Eurasian Development Bank). The popular consciousness associates Turkey mainly with vacationing, but it is also of high demand as an investor with high-quality goods and the potential venue for inexpensive and even free education. There is certain interest to Turkish culture – to a great extent formed by Turkish soap operas and high-quality work of the Turkish soft power. However, there are not many direct contacts – the countries do not have common borders, and no big communities were developed historically. [8]
The analysis of Kazakhstan sociological surveys outcomes shows, that during the entire period of the contemporary history until 2016, the support of relations with Turkey was growing among the population. Thus, in 2005 only 4% of respondents named Turkey when answering the question «Which country would like to see as an ally?». In 2010, every tenth respondent said that Turkey was the country, with which it would be good for Kazakhstan to unite. In 2014, every fifth respondent (21%) called Turkey the friendly country. However, in 2017, such indicators lowered down to 11%. Such worsening of the perception was connected with the attempt of the military coup d'état in Turkey and its violent suppression in July 2016, which was covered by media with many details. A new surge in interest became noticeable after the autumn of 2020. It was associated with Azerbaijan's victory in the Second Karabakh War, where Turkish weapons were actively used (in particular, UAVs Bayraktar TB2), as well as with media publishing information about the Turkish army being the second strength in NATO. [9]
Daniyar Ashimbayev, the political analyst in Kazakhstan, highlights that «Turkey, which used to be an instrument of Western influence on Kazakhstan, in recent years picked up the slogans of Pan-Turkism and Pan-Islamism». In his opinion, Ankara is also interested in Kazakhstan becoming a Turkish satellite within Erdogan's attempts to create a «neo-Osmanli Empire». However, this straightforward neo-Osmanli policy did not receive the required support in Central Asian countries, which are still more secular and which have understood their real potential during the years of independence. By now, only unstable Kyrgyzstan remains under Turkish influence. Other powerful regional players – Kazakhstan, Uzbekistan and Turkmenistan have always been very cautious with respect to Ankara's expansion and dosed their interaction with Turkey via funds, social and educational programs. [10]
According to experts from the Middle East Institute in Washington, today the situation is different – Turkey has become an obvious exporter of Pan-Islamism, neo-Osmanli ideas and regional instability. Western analysts captured the key word of Turkish policy – «export» and essential conception of Erdogan's activities (the activities of an «experienced trader»). Turkish endeavors in Central Asia have different metrics just like modern multi-tier marketing – global, regional and bilateral. Ankara applies special marketing programs at each of this tier to promote its export political product. For the global tier it is Pan-Islamism, for the regional tier – neo-Osmanli policy or Pan-Turkism, for bilateral tier – economic cooperation. Often these programs are mixed in the required proportions to obtain the necessary synergy effect.
Erdogan's soft power
Marat Shibutov, an analyst from Kazakhstan, offered a comprehensive evaluation of the modern relations between Kazakhstan and Turkey. He came to the following important conclusions. Firstly, despite big media response, in reality cooperation between Turkey and Kazakhstan remains not very intensive. Secondly, Turkish business in Kazakhstan is constantly «in the public eye», because it is mainly present in construction and services, which are of great interest for the citizens and where numerous small businesses are active. Thirdly, Turkey skillfully uses its soft power and has good positions in Kazakhstan due to the declared «Turkic brotherhood» and educational projects. [11]
According to Shibutov, education is the field of the most intensive cooperation with Turkey. There are two joint universities – one named after Khoja Ahmed Yasawi in the South of Kazakhstan, and the other one named after Suleyman Demirel in Almaty region. A chain of Kazakh-Turkish lyceums is efficiently operating – with partially preserved traditions and Turkish teachers. These lyceums are of high demand in Kazakhstan education services market. A lot of mid-level public officials are graduates of these lyceums, and they honestly believe Turkey to be a true reference country. Many students from Kazakhstan are receiving education in Turkey on the basis of specialized Kazakh and Turkish curricula. All of this is evidence of the Turkish authorities' activities targeted at high-potential young people in the long-term horizon.
Here is one case in point. Within the framework of the state visit of President K.-J. Tokayev to Turkey, new memorandums of cooperation in media and youth policy were signed between the Ministry of Information and Social Development of the Republic of Kazakhstan and the respectively authorized agencies of the Republic of Turkey. The Parties shall promote dissemination of reliable information through their mass media, the mutual exchange of television and other information content, share the best practices of media specialists and continue the establishment of closer contacts with the leading education centers of the Parties in training of media specialists.
Another extensive joint program was developed in youth policy including: youth policy specialists and officials exchange; direct young people exchanges; participation in international conferences, seminars and other events in the sphere of youth policy; support of youth institutions and organizations; joint efforts in development and implementation of long-term and short-term youth programs; cooperation in volunteers' activities; exchange of materials and information in youth policy. [12]
As can be seen, Turkish soft power is skillfully developed long-term strategy focused on the future and targeted at the forthcoming generational shift in Kazakhstan. On the contrary, Russian soft power operates in the short-term horizon and is focused on the past – it is based on nostalgic Soviet achievements like mythological «brotherly friendship relations» or it appeals to the past victories and success stories back in the times of USSR. It is mainly geared by the current dominance of Russian language and by the audience of Russian TV channels, which is constantly shrinking.
Nowadays, the Central Asian countries are experiencing the demographic shift to Soviet Union. This new audience is far off the values and binding forces of the Soviet era, it is much less inclined to receive information from TV. This may become a serious challenge for Russian presence in Kazakhstan in the mid-term perspective already and requires a drastic revision of the existing practices of our diplomacy and Rossotrudnichestvo (Federal Agency for CIS Affairs, Compatriots Living Abroad and International Humanitarian Cooperation). [13]
Real influence metrics
Trade and direct investment are two objective indices of influence and interest on behalf of that or another country. Investment is a much more important element of economic relations versus trade. Investment demonstrates three key aspects of cooperation: the degree of trust with respect to the country's economy, good relations between the elites, and the existing level of the economy liberalization. In case of crisis trade may be terminated or reduced in volumes literally within a year or two, but it is much more difficult to take away the investment from the partner country.
Shortly before Tokayev's visit to Ankara, the Ministry of Foreign Affairs of Kazakhstan published the list of TOP-10 countries investing into Kazakhstan economy in 2021. Here is this official list:
Netherlands – USD 7.0 bn;

USA – USD 2.8 bn;

Switzerland – USD 2.6 bn;

Russia – USD 1.9 bn;

China – USD 1.8 bn;

Belgium – USD 1.06 bn;

UK – USD 1.02 bn;

South Korea – USD 805.5 mln;

Turkey – USD 679.5 mln;

France – USD 603.1 mln. [

14

]
One clarification is required right away. Similar to Russia, impressive investment from the Netherlands and from Switzerland mainly means a return contribution from Kazakh businessmen, who use it to minimize their taxes and to save their assets. It is important to emphasize, that Russia as an investor is very important for Kazakhstan. Russia invests, first of all, into long-term joint ventures, some of them being mid-size and big-size projects operating in key sectors of the economy. In this context, direct investment from Kazakhstan into Turkey is three times less. As for Turkish citizens, they organize in Kazakhstan mainly «quick» small businesses – catering, hotels, logistics and retail.
Kazakhstan can boast that 180 countries are its commercial partners, and Russia is one of the most important one (as of 2021) – USD 8 bn 581.6 mln. Then comes China – USD 8 bn 307.4 mln, Italy – USD 3 bn 902.3 mln, then (for understandable reasons) the Netherlands – USD 2 bn 277.3 mln, and finally, Turkey – USD 1 bn 788 mln.
Previously Turkey held the sixth position among the main commercial partners of Kazakhstan, and based on the results of H1 2021 it went up to the fifth position. In the course of President Tokayev's visit it was stated, that the two countries intend to double the annual sales turnover – up to USD 10 bn. Recep Tayyip Erdogan emphasized that in one of his. According to him, the bilateral sales turnover grew more than by 50% as the result of the preceding year and continues to demonstrate steady growth dynamics.
Let us analyze the causes of such wanton growth and the structure of the sales turnover between Kazakhstan and Turkey.
Trade policy
According to official statistics, in 2021 the sales turnover between Kazakhstan and Turkey grew by USD 1 bn and amounted to more than USD 4 bn. The overall annual growth dynamics constituted 36.6%. It should be emphasized that export from Kazakhstan dominates the structure of such turnover – USD 2 bn 960 mln; the share of import from Turkey makes USD 1 bn 110 mln. [15]
In 2021, export from Kazakhstan to Turkey amounted to USD 2.959 bn constituting 51% growth versus 2020 (USD 1.9 bn). This export mainly consists of natural resources, in particular of the following two categories: petroleum products and non-ferrous metals and articles made therefrom. Another important exported product needs to mentioned – it is grain. Turkey has only 3.5% share in the total grain export from Kazakhstan. In essence, practically all the export from Kazakhstan is commodity-driven, and the surge in commodities prices underpinned the growth of mutual sales turnover.
Turkish import to Kazakhstan grew by 8.6% in 2021 versus 2020 (USD 1,021,119 K) and amounted to USD 1,109,610 K. Half of such Turkish import in 2021 consisted of two categories (according to FEACN [Foreign Economic Activity Commodity Nomenclature] classifier). FEACN 84-85: Machines, equipment and mechanisms; electrical equipment; the respective spare parts; audio recording and playing equipment, equipment for recording and playing video images and sounds, the respective spare parts and accessories. FEACN 50-63: Textile materials and articles therefrom. [15]
In simple words, Turkey supplies to Kazakhstan some cheap categories of goods – textiles, clothes, footwear, industrial equipment, household articles and construction materials. The Turkish share in the overall import achieved the maximum of 3%. There are two main reasons for that. Firstly, Turkish goods have to compete with those from China and Russia. Secondly, Kazakhstan market capacity is not of serious interest for Turkey versus the European market. It should be emphasized that good relations with Russia are very important both for Kazakhstan and for Turkey from the standpoint of their bilateral trade.
Petr Svoik, an economist from Kazakhstan, is convinced that «it is impossible to reject import from Russia in favor of Turkey. Only those who know very little about traffic and logistics can say so». The reason is clear – Kazakhstan can export its commodities mainly from the port of Novorossiysk in Russia, and Turkish goods are exported also through the territory of Russia. Petr Svoik adds: «We should not forget that Kazakhstan is a member of the Eurasian Economic Union, so its import-export activities with Russia are exempt from customs control. As for Turkey, it has customs control on the borders both with Russia and with Kazakhstan. Hence, Turkish goods will be more expensive for us in any case». According to the joint declaration of the leaders of Kazakhstan and Turkey, they plan to resolve this issue by expansion of the by-pass via Georgia and Azerbaijan, and by building a new avia cargo terminal. [16]
In any case, numerous discussions in Kazakhstan about quick refocusing its economy from Russia to Turkey so far remain just plans and projects. If we take a broader view, Russian is the major donor not only for Kazakhstan, but for all Central Asian countries. During the period 2008 – 2022, Russia's assistance to these countries amounted to more than USD 6.2 bn, Andrei Rudenko, Deputy RF Minister of Foreign Affairs said at the conference of Valdai international discussion club. The diplomat emphasized that Russia is also the major investor in Central Asia. The accumulated Russian investment in this region between 2010 and 2021 amounted to USD 30.5 bn. So, it will be impossible to cancel the established Russian economic presence in this region by just one visit of resident Tokayev Ankara.
Moreover, Turkey itself is undergoing quite a difficult period in terms of the economic situation. Its commercial balance is negative, the sovereign and foreign debts are growing, the inflation is sky rocketing, while investment, gold and forex reserves and tax revenues are going down. Apparently, this is the cause of wanton growth of new foreign policy projects associated with «Turkic unity». President Erdogan is doing his best to make «television win over refrigerator» domestically, and to get access to cheap loans in external markets simultaneously with assuring access of Turkish goods and companies to such markets. A well-known classic taught us that politics is a concentrated expression of economics. SO, to a great extent Ankara's Pan-Turkic principles are underpinned by his pre-election endeavors: to raise his rating at the expense of new foreign policy ideas and assure his victory in the forthcoming campaign in 2023.
Strengthening of positions
Nowadays, the topic of Turkish foreign policy expansion has become quite popular not only with the usual political analysts in Russia and Kazakhstan, but also with prominent experts from the US, Europe and Middle East. The Second Karabakh War gave a new momentum for such interest, which we have already mentioned above. The topic of growing Turkish influence is actively supported inside Turkey – both in media and in political/expert community. This is viewed as evidence of efficient political and economic policy of President Recep Tayyip Erdogan. Thanks to the joint efforts of Turkish and Western experts the new «Turkish Sultan» image has been formed, the undaunted leader disseminating Turkish power across the entire world using different methods – from selling unmanned combat aircrafts and commercial transactions, to the «mosque diplomacy» and iron-strong political will.
Of course, in recent years Turkish foreign policy has become more active, the country keeps testing new formats and regions of presence. In the forthcoming decade, Ankara intends to enhance the integration with the Turkic-speaking countries, which are close in terms of culture and language, as well as with some other post-Soviet regions, including Gagauzia. However, despite all its attempts, Turkey so far cannot be viewed as a sound competitor and a valid alternative to other key foreign players – Russia, China and «the collective West» – neither in economic nor in political terms. However, special military operation in Ukraine and the escalating crisis of the relations between the Russian Federation and the West provide new opportunities to Ankara to improve its positions in Central Asia, and Ankara is in a hurry to seize those opportunities.
More and more often we can hear, first of all from prominent international experts, that the Turkish factor is obviously growing in both domestic and foreign policy of Kazakhstan. Here is the assessment of the current situation by Kazakhstan media: «From the beginning of the warfare in Ukraine, neither Turkey, nor Kazakhstan joined anti-Russian sanctions. Moreover, both countries are actively trading with Russia – Kazakhstan has common market with its Northern neighbor. At the same time, a number of Russian public figures, e.g., Tigran Keosayan, a TV personality, voiced ultimatum about the need for Kazakhstan to decide on its position – which side is it ranged on. However, Nur-Sultan does not want to choose the side and is cautiously drifting in the rough sea of international politics, and this time it tends to moor at the Turkish shore. What will turn out of it? It will be better understood in autism, when Erdogan comes to Kazakhstan with a return visit». [17]
However, the majority of regional experts are far from alarmism in evaluating the outcomes of Tokayev's visit to Ankara. Just like other countries in the region, Kazakhstan has institutional commitments within the existing organizations – EAEU and CSTO. A U-turn towards Turkey will require a serious diplomatic effort to revise the terms of membership in the new alliance. Kazakhstan may be deprived of the universal CSTO shield – a real collective mechanism for assuring national security in the crisis period. Kazakhstan may also lose the opportunity for deeper military-technical and miliary-economic cooperation with its CSTO partners.
Kazakhstan leaders understand this very well – at the recent anniversary CSTO summit in Moscow President Tokayev emphasized the importance of this organization. He even proposed to extend the existing framework and include CSTO into the UN peace-making efforts. There are all grounds to believe that at the forthcoming EAEU summit in Bishkek, in which Kazakhstan President will participate personally, we will see similar assurance of close cooperation. [18]
Reforming and intensification of relations
The visit of Kassym-Jomart Tokayev to Turkey is a serious sign for the urgent reform and follow-up intensification of the relations between Russia and Kazakhstan. Apparently, there are four main areas for such efforts.
First. Overcoming the gap in political and expert communication. It is no secret that today a certain misunderstanding accumulated in the relations between Russia and Kazakhstan. It means that in Nur-Sultan they stopped understanding what «dangerous and unpredictable Russia» wants, and in Moscow they see Kazakhstan solely through the media optics. And this is Russian media view, as a rule, focused on scandals and «yellow» topics. This post-Covid gap cannot be bridged just through formal meetings and occasional top-level contacts. On-going targeted efforts are required to bring elites of Russian and Kazakhstan closer at all hierarchic levels, to organize regular contacts to assure common understanding of strategic objectives. Knowledge-based diplomacy plays a significant role in explaining the motivation and intentions of the parties.
Second. Systemic restructuring of Russian soft power. It is time to shift from customary work «in squares and budgets» in the tideway of totalitarian propaganda to long-term delicate efforts with the target groups – youth, bureaucrats, experts and media. Direct humanitarian contacts and exchange of visits have big potential, as well as respectful working with expat communities and border areas. Serious conclusions should be made with respect to the established routine of Russian diplomacy, which prefers doing nothing and working in the «besieged fortress» regime. In essence, the agile soft power should be rebuilt replacing the existing veneer decorations.
Third. New economic and integration policy in the sanctions environment. The adversary between Russia and «collective West» is of a long-term character and in effect may be called all-out warfare for annihilation. Today we do not have not only allies, but even potential partners in the West. The long-term priority of Russia should be further development of allied relations and integration ties with its EAEU partners, first of all – with Kazakhstan. This is an extremely important financial and transit hub, potential assembly shop and the site for bringing Russian enterprises to the border territories. In its turn, for Kazakhstan Russia is the main transit route, and 75% of Kazakhstan export goes through it.
Fourth. Enhanced interaction within CSTO. The priority category of problems are the tasks to strengthen the security of Russia and to overcome the trade embargo in Central Asia and South Caucasus. Today Kazakhstan is not just a stake in the geopolitical game, but a key factor of domestic ethnical policy and geopolitics of Russia, and even the factor of its territorial integrity. The common military space of Russia and Kazakhstan, their active participation in CSTO and Integrated Air Defense Group is also extremely important for the strategic defense and security system of both nations. Thus, there are real legally binding guaranties of physical protection of Kazakhstan from external threats within CSTO. On the other hand, the Republic of Kazakhstan is in that critical communications focal point, which connects Siberian Russia and European Russia, so destabilization of Kazakhstan may split the Russian Federation into two parts.
Due to these weighty reasons, Russia and Kazakhstan, like Siamese twins, have strong inter-dependency in the strategic security sphere. The decision-makers need to take into account all the above listed factors. This understanding of mutual dependency should prevent the political classes of our two countries from inconsiderate acts, abrupt movements and even simple negligence in the bilateral relations. All of this is required to keep the relations between Kazakhstan and Russia on a stable allied level, so they do not repeat the sad path of Russian-Ukrainian «brotherly ties». Russian and Kazakh elites need to clearly understand the strategic importance of their alliance and continue their mutual efforts to assure their long-term enhancement.
1. Kazakhstan and Turkey signed an agreement on military cooperation. Forbs Kazakhstan, 11.05.2022. https://forbes.kz/process/kazahstan_i_turtsiya_podpisali_soglashenie_o_voennom_sotrudnichestve/
2. Kazakhstan will launch assembly line for Turkish unmanned combat aerial vehicles ÀNÊÀ. Interfax, 11.05.2022. https://www.interfax.ru/world/840249
3. Kazakhstan is forced to search for a shoulder to keep the balance – political analyst Dubnov. ORDA, 12.05.2022. https://orda.kz/kazahstan-vynuzhden-iskat-kakoe-to-plecho-dlja-balansa-politolog-dubnov/#part=1
4. Erdogan: we will stay close with our Kazakh brothers. TENGRINEWS, 11.05.2022. https://tengrinews.kz/kazakhstan_news/erdogan-myi-budem-ryadom-s-nashimi-kazahstanskimi-bratyami-468301/
5. Tokayev's "Turkish gambit". Zona.kz, 16.05.2022. https://zonakz.net/2022/05/16/tureckij-gambit-tokaeva/
6. Tokayev's visit to Ankara: the Great Turan 2.0. EXCLUSIVE, 16.05.2022. https://www.exclusive.kz/expertiza/politika/129861/
7. In case of any threat Kazakhstan may ask Turkey for protection. Nezavisimaya Gazeta, 11.05.2022. https://www.ng.ru/cis/2022-05-11/1_8432_kazakhstan.html
8. EDB integration business barometer. Eurasian Development Bank, 25.01.2022. https://eabr.org/analytics/integration-research/cii-reports/integratsionnyy-biznes-barometr-eabr-2022/
9. Turkish army: the second in NATO, the tenth in the world. BBC NEWS, 16.07.2016. https://www.bbc.com/russian/news-36813509
10. Daniyar Ashimbayev: geopolitical context of the events in Kazakhstan. STAN RADAR, 10.01.2022. https://stanradar.com/news/full/48114-danijar-ashimbaev-geopoliticheskij-kontekst-sobytij-v-kazahstane-.html?page=13
11. Turkish soft power: current status of the relations between Kazakhstan and Turkey. REGNUM, 30.06.2018. https://regnum.ru/news/polit/2440405.html
12. Memorandums signed between the Ministry of Information and Social Development of the Republic of Kazakhstan and the respective authorities of the Republic of Turkey. DKN NEWS, 12.05.2022. https://dknews.kz/ru/politika/234892-podpisany-memorandumy-mezhdu-mior-rk-i
13. How should we study the post-Soviet countries. REGNUM, 17.01.2019. https://regnum.ru/news/2553843.html
14. The list of top-10 countries investing into Kazakhstan economy was developed. Forbs Kazakhstan, 04.04.2022. https://forbes.kz//finances/investment/sostavlen_top-10_stran-investorov_v_kazahstanskuyu_ekonomiku/
15. Sales turnover between Kazakhstan and Turkey in 2010-2021. KazDATA INSIDER, 22.03.2021. https://blog.kazdata.kz/import-export/tovarooborot-mezhdu-kazaxstanom-i-turciej-2010-2020.html
16. Turkey will build a new avia cargo terminal in Kazakhstan. AviaPort, 12.05.2022. https://www.aviaport.ru/digest/2022/05/12/718061.html
17. What sarkyt did Tokayev bring from Ankara. ORDA, 12.05.2022. https://orda.kz/kakoj-sarkyt-privez-tokaev-iz-ankary/
18. We need to set the objective to engage CSTO to the UN peace-making activity – Tokayev. Sputnik Kazakhstan, 16.05.2022. https://ru.sputnik.kz/20220516/tokaev-prinyal-uchastie-v-yubileynom-sammite-odkb-v-moskve-24844242.html