Prospects and areas of energy cooperation between Azerbaijan and Pakistan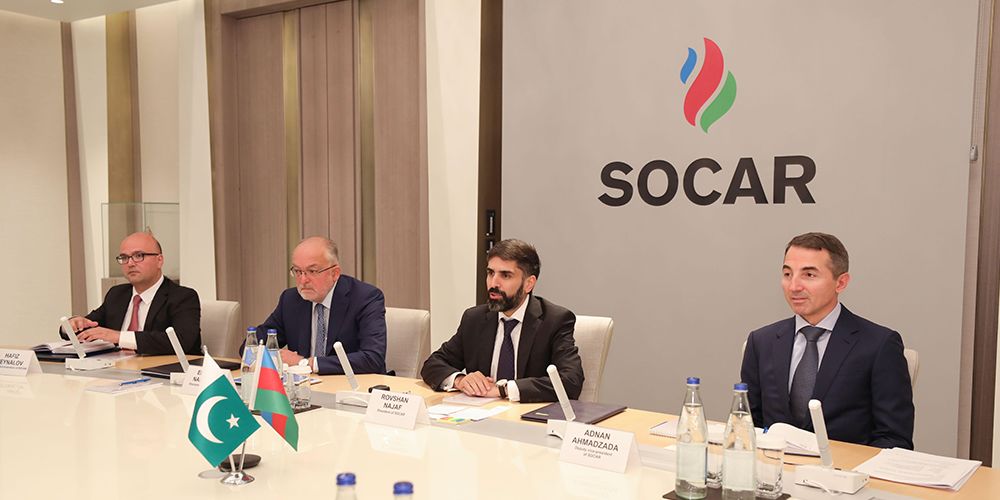 photo: media.az
20 March 2023
The energy crisis is one of the main challenges that Pakistan has to face for already a long time. In the past two years this problem has become even more acute because of price fluctuations on the global energy market. Pakistani authorities undertake active steps to search for reliable and cheap sources of energy. Azerbaijan, rich in hydrocarbons, is included into geography of this search.
In search for energy
Pakistan has long-lasting and firm ties with Azerbaijan sharing common views on the major global and regional issues. Baku and Islamabad consider their relationship as «friendly and fraternal». Pakistan was one of the first countries to recognize Azerbaijan in 1991. The sides intend to expand bilateral economic relations which have a great potential for development. In the nearest future plans are made to sign an agreement on preferential trade which will help to strengthen business connections. [1]
Priority place belongs to energy issues. As early as February 2017 an inter-governmental agreement on energy cooperation was signed. Within the understandings reached Azerbaijan supplies crude oil, petroleum products and liquefied natural gas (LNG) to Pakistan. The document sets forth the conditions of such supplies, in particular, a possibility of making deals without tender procedures. The sides also agreed on joint research by setting up a laboratory and performing test production of oil and gas. Besides, Baku and Islamabad agreed to exchange scientific research results in the field of oil and gas exploration and production as well as on training of specialists in the oil industry. [2]
Besides, a memorandum of understanding was signed between the State Oil Company of Azerbaijan Republic (SOCAR) and Pakistan's oil-and-gas company Pakistan State Oil in which the controlling block of shares belongs to the government of that country.
Islamabad and Baku have been lately conducting a more active energy dialogue and studying possibilities for expanding cooperation in the energy field. [3] In early 2023 the Azerbaijani capital was visited by a high-ranking delegation from Pakistan, including Minister of State for Petroleum Musadik Malik, Federal Minister of the Board of Investment Chaudhry Salik Hussain and Federal Minister for Industries and Production Syed Murtaza Mahmud which held meetings with Azerbaijan's Minister of Energy Parviz Shahbazov. The purpose of the Pakistani ministers' visit that lasted from 18 to 23 February was negotiations on the import of petroleum products, oils and combustive-lubricating materials on credit, as well as supplies of liquefied natural gas at reasonable prices. [4]
Pakistan suffers from gas deficit
According to the BP Statistical Review of World Energy for 2021, Pakistan's share of 30.6 billion cu m of natural gas constitutes 0.8% of the world production. Natural gas in Pakistan is produced at 55 fields scattered nationwide. Gas exploration and production are handled by 15 companies, while distribution and transportation mainly by two state-owned companies: Sui Northern Gas Pipeline Limited and Sui Southern Gas Company Limited. [5]
Gas production in Pakistan has lately been falling because of depletion of the fields under development. With this, for more than 10 years geological exploration companies failed to find large deposits of hydrocarbons to make up for current deficit. In this situation the country's dependence on the import of energy resources is growing for which a considerable amount of foreign currency reserves has to be spent.
As of today Islamabad meets energy requirements by virtue of imported and local resources in the ratio of 44: 56. [6] Natural gas provides about 50% of the country's energy needs and is mainly used in power supply, industry, transport. [7]
In the recent years one can observe a sharp increase of demand for gas in Pakistan. This is attributed to the fact that the policy of conversion of thermal power plants to natural gas is being implemented. A growing demand for gas is also related to the post-covid activation of economic activities, including industrial production and agrarian sector. Electric energy consumption is growing in the private sector too: population now buys more electric and electronic goods such as split system air conditioners, LED-illuminated TVs, refrigerators, deep-freeze units and notebooks.
Because of a shortage of generated energy required for meeting the growing demand Pakistan has for many years been going through a crisis. Frequent and many-hours-long electrical power outages in the country became an ordinary phenomenon which has a negative impact on the economic growth. In particular, power supply interruptions are inflicting huge damage on the textile industry, the biggest export sector of Pakistan. In January 2022 textile factories in Punjab had to close for more than two weeks because of an energy shortage. This caused losses to the amount of 250 million dollars, which constitutes 20% of the annual income in this industry. [8]
Tendencies of growing prices for the liquefied natural gas on the world energy market create problems with LNG supplies to Pakistan. LNG suppliers under long-term contracts with Pakistan declared a default on at least 11 consignments since January 2021which caused a deficit of fuel and electric energy.
To use profitable European markets LNG supply companies in many countries of the world broke their agreements with Pakistan which exacerbated the energy instability problem in the country even more. In the current environment Islamabad has to buy liquefied gas on the sport market which features a high price volatility. Meanwhile, citing knowledgeable traders the Bloomberg agency reports that an acute shortage of electric energy in Pakistan may last for several years after the authorities had failed to ensure long-term LNG supplies.
According to the Institute for Energy Economics and Financial Analysis (IEEFA), gas supplied from abroad costs Pakistan 5-10 times more than the gas produced inside the country. [9] As per the IEEFA's recent report, by 2030 Pakistan's expenses for the LNG import may exceed 30 billion dollars as compared to almost 2.6 billion dollars in the 2021 fiscal year. The document's authors state that the country's growing dependence on the gas import exacerbated energy instability and financial difficulties both for the government, households and enterprises and for Pakistan's economic sectors.
Experts from the Pakistan Institute of Development Economics attribute the increased costs of gas supplies to the weak operational and normative base on LNG. [10] Thus, they note that the government is the only player in the LNG import business and has no competition. Obstacles are created by the bureaucratic barriers of the Public Procurement Regulatory Authority (PPRA) which cause delays in making decisions on the fuel import. The PPRA rules do not allow using the advantages of low prices on the spot market because the import procedure takes on average more than 60 days.
At present, the biggest LNG supplier for Pakistan is Qatar with which the country had signed two long-term contracts: in 2015 for 15 years and in 2021 for 10 years. In 2017 PLL made a contract for 15 years with the Italian Eni which provides for one delivery per month. Besides, Pakistan imports up to three LNG consignments per month by way of sport tenders conducted from time to time to meet the seasonal peak demand.
Islamabad strives to diversify its sources of energy supply and in this connection Pakistani authorities are conducting active negotiations with various hydrocarbon-exporting countries, including Russia and Azerbaijan. Pakistan also plans to import the pipeline natural gas from Turkmenistan and neighboring Iran. The country is participating in two major projects on construction of transnational main gas pipelines: TAPI (Turkmenistan – Afghanistan – Pakistan – India) and Iran – Pakistan. In spite of the fact that both the projects had been launched many years ago, implementation came to a deadlock because of the financial, technical and geopolitical reasons.
LNG from SOCAR
It should be stated that Azerbaijan itself does not produce liquified natural gas because the country has no access to the global ocean, but since 2017 SOCAR's subsidiary SOCAR Trading has been selling LNG from other countries. The geography of this company's operations encompasses the countries of Europe, Asia and America. In January-April last year SOCAR sold 2.01 bn cu m of LNG on the international markets. [11]
In December 2022 Pakistani mass media with reference to a source close to the Minister of State for Petroleum Musadik Malik noted that Pakistan is about to sign a LNG purchase framework agreement with Azerbaijan. [12] This document initiated by Pakistan LNG Limited (PLL) stipulates that the Azerbaijani company will sell LNG at a lower price.
Pakistan's news channel Geo Ne explains that the initial effective period of the agreement will be one year with possible extension for a similar period, one LNG consignment will be offered by SOCAR 45 days in advance before the respective dates of delivery, while each offer of the cargo will have a fixed effective period during which PLL may accept the offer. The framework agreement does not contain any concrete pricing formula and the LNG price will be specified by SOCAR for each consignment in dollars. However, liquefied natural gas may be bought only if an attractive price is offered or in the case of urgent necessity. [13]
«In 2017 the two countries signed an inter-governmental agreement under which the State Oil Company of the Republic of Azerbaijan (SOCAR) was supposed to supply oil-and-gas products, including residual fuel oil, petrol, diesel fuel and liquefied natural gas. For this purpose SOCAR offered two credit lines in the amount of 120 mln dollars for LNG and 100 mln dollars for petroleum products for a period of 60 days», says Geo News quoting a high-ranking official. However, in the long run the deal was never finalized because of bureaucratic delays.
Besides, the Pakistani side did not use the opportunity to accept the offer on LNG import on credit since its price at that time was «considerably higher» as compared with the price of the spot supplies and short-term supplies from Qatar. The Azerbaijani company also expressed disappointment repeatedly in connection with long silence of Pakistan's Ministry for Petroleum. In July 2021 Ambassador to Baku Bilal Hayee called upon Islamabad to sort out this matter as soon as possible not to cast a shadow on the friendly relations between the two countries.
It is worth noting that SOCAR already has experience of LNG supplies to Pakistan through participation in the tenders of Pakistan LNG Limited. SOCAR has been making supplies since 2018 at prices favorable for both sides. [14]
Besides, throughout many years Pakistan has been importing liquefied petroleum gas (LPG) produced at the Baku refinery and transported via neighboring Iran. [15]
Investment capabilities
Besides the import of energy sources from Azerbaijan, Islamabad is interested in participation of Azerbaijani companies in Pakistan's energy sector as investors. In November 2021 Azerbaijan's Ambassador to Pakistan Khazar Farhadov stated that SOCAR plans to invest 1 bn dollars into Pakistan's energy sector. «We consider Pakistan as a potential market for business and investments», the Azerbaijani diplomat underscored. In his words, many other companies of Azerbaijan are also interested in establishment of joint ventures with the Pakistani counterparts, as well as in investing into Pakistan's economy.
In its turn, Baku suggests that Pakistani companies, including pharmaceutical ones, study possibilities for setting up joint ventures in Azerbaijan. [16] Recently Pakistani Ambassador to Baku Bilal Hayee said that as soon as soon as reconstruction on the liberated territories of Azerbaijan is over many Pakistani companies will begin to study economic possibilities existing in Karabakh. Baku has big plans in the field of «green energy» associated with the liberated territories. This region has a rich potential of renewable sources of energy and Baku plans to launch major projects here with attraction of foreign investments.
Islamabad has already offered Azerbaijan access to the deep-sea port Gwadar, a terminal point of destination of the Chinese-Pakistani economic corridor. [17]
The growing Pakistani market of liquefied natural gas becomes attractive for foreign investors. In June last year Azerbaijan's Ambassador to Pakistan Khazar Farhadov said at the meeting with the Minister of State for Petroleum Musadik Malik that SOCAR intends to invest 100 million dollars into Pakistan's LNG sector. The Azerbaijani diplomat voiced SOCAR's proposal which includes the construction of the LNG terminal, issue of short-term credits and a payment deferment mechanism.
Despite the fact that Pakistan is one of the seven largest LNG importers in the world, it, however, does not have sufficient infrastructure to receive «blue flame gas» being just No.18 in the world in this segment. As of today, Pakistan has only two floating LNG terminals not far from the port of Karachi. These are able to service 13 gas carriers per month with the loading volume from 143 to 165 thousand cu m.
In this connection, construction of LNG receiving facilities is of utmost importance to Pakistan. For this reason the national authorities are striving to attract foreign investments to develop LNG receiving infrastructure. In August 2022 Islamabad introduced amendments into the legislation concerning LNG. In particular, the country's authorities excluded the clause stipulating that private natural gas receiving terminals under construction would grant a certain part of the facilities to the government. It was exactly this clause that was the «key stumbling-block». «Under the circumstances, to diversify the infrastructure of LNG import it is necessary to maintain and encourage foreign/private investments into the new liquefied gas terminals at their own expense and risk in order to meet the growing demand for regasification of LNG», the Pakistani Government stated. [18]
The issue of building a LNG terminal in Pakistan with participation of SOCAR was discussed at the meeting between the Minister of Energy Parviz Shahbazov and the ministerial delegation from Pakistan during its recent visit to Baku. [19]
Islamabad proposed that the Azerbaijani side study investment possibilities in gas distribution, exploration and alternative energy. [20] At the current stage the share of renewable energy sources (RES) within Pakistan's energy balance is a mere 5%. The «green energy» policy provides for generation of 60% of energy from renewable resources by 2030. [21] Earlier the parties had discussed possible participation of Azerbaijani companies in the construction and development of small hydroelectric power stations, wind, solar and bioenergy projects in Pakistan. [22]
Conclusions
In spite of the fact that the inter-governmental agreement on energy cooperation between Azerbaijan and Pakistan was signed back in 2017, the parties hardly made any practical steps ahead. The latest round of bilateral negotiations on energy cooperation gives grounds to believe that Baku and Islamabad will after all be able to elevate their energy relationship to a new level.
Conclusion of the framework agreement will allow Pakistan to receive stable LNG supplies on favorable conditions, which will definitely have a positive effect on the country's energy supply. In its turn, the Azerbaijani SOCAR will receive a new and stable market for LNG supplies. Pakistan's energy market is attractive for SOCAR in terms of investments, too. Promising areas will be exploration and production of oil and gas, LNG regasification, development of natural gas transportation infrastructure.
1. Azerbaijan plans to sign a preferential trade agreement with Pakistan. Trend news agency, 07.02.2023. https://www.trend.az/business/3706747.html
2. Azerbaijan and Pakistan may sign an oil and gas cooperation agreement before the end of February 2017. Neftegaz.Ru, 13.02.2017. https://neftegaz.ru/news/partnership/212788-azerbaydzhan-i-pakistan-do-kontsa-fevralya-2017-g-mogut-podpisat-soglashenie-o-sotrudnichestve-v-nef/
3. Pakistan, Azerbaijan to collaborate on energy. Daily Times, 13.10.2022. https://dailytimes.com.pk/1011324/pakistan-azerbaijan-to-collaborate-on-energy/
4. Azerbaijan and Pakistan discussed the development of cooperation in the energy field. Trend news agency, 21.02.2023. https://www.trend.az/business/energy/3713454.html
5. Oil, gas production continues to fall. The Express TRIBUNE, 21.02.2021. https://tribune.com.pk/story/2286647/oil-gas-production-continues-to-fall
6. Gas Crisis In Pakistan. Pakistan Institute of Development Economics. https://pide.org.pk/research/gas-crisis-in-pakistan/
7. Pakistan. LNG vs natural gas. Oil Expert, 16.02.2018. https://www.oilexp.ru/news/world/pakistan-spg-vs-prirodnyj-gaz/141610/
8. Pakistan's dependence on imported LNG exacerbates energy insecurity and financial instability. The Institute for Energy Economics and Financial Analysis, 16.06.2022. https://ieefa.org/articles/pakistans-dependence-imported-lng-exacerbates-energy-insecurity-and-financial-instability
9. Pakistan's dependence on imported LNG exacerbates energy insecurity and financial instability. The Institute for Energy Economics and Financial Analysis, 16.06.2022. https://ieefa.org/articles/pakistans-dependence-imported-lng-exacerbates-energy-insecurity-and-financial-instability
10. Gas Crisis In Pakistan. Pakistan Institute of Development Economics. https://pide.org.pk/research/gas-crisis-in-pakistan/
11. In January-April 2022 SOCAR sold more than 2 bn cu m of LNG on international markets. Neftegaz.Ru,17.05.2022. https://neftegaz.ru/news/spg-szhizhennyy-prirodnyy-gaz/737637-socar-v-yanvare-aprele-2022-g-realizovala-bolee-2-mlrd-m3-spg-na-mezhdunarodnykh-rynkakh/
12. Pakistan and Azerbaijan will sign an agreement on purchases of LNG. Trend news agency, 19.12.2022. https://www.trend.az/business/3683573.html
13. Pakistan in talks with Azerbaijan for POL imports. Geo News, 21.02.2023. https://www.geo.tv/latest/472016-pakistan-in-talks-with-azerbaijan-for-pol-imports
14. In autumn SOCAR will begin supplies of liquefied gas to Pakistan. Interfax- Azerbaijan, 31.07.2018. http://interfax.az/view/740129
15. Through pipe or by gas carrier: what are the prospects of Azerbaijan's gas supplies to Pakistan. SPUTNIK Azerbaijan, 20.12.2022. https://az.sputniknews.ru/20221220/truboy-ili-gazovozom-est-li-perspektivy-u-postavok-azerbaydzhanskogo-gaza-v-turkmenistan-449804845.html
16. Azeri firm to invest $1b in energy sector. The Express TRIBUNE, 23.11.2021. https://tribune.com.pk/story/2330666/azeri-firm-to-invest-1b-in-energy-sector
17. Azerbaijan invests millions of dollars in Pakistan, 06.06.2022. https://az.sputniknews.ru/20220606/azerbaydzhan-investiruet-milliony-dollarov-v-pakistan-442600210.html
18. PAKISTAN ANNOUNCES CHANGES TO ITS LNG POLICY. NATURAL GAS NEWS, 22.08.2022. https://www.naturalgasworld.com/pakistan-announces-changes-to-its-lng-policy-100368
19. PAKISTAN may build a LNG terminal with participation of SOCAR. Information agency REPORT, 21.02.2023. https://report.az/ru/energetika/azerbajdzhan-i-pakistan-obsudili-razvitie-energeticheskogo-sotrudnichestva/
20. Azerbaijan offers LNG supply on a long-term basis to Pakistan. HELLENIC SHIPPING NEWS, 10.10.2019. https://www.hellenicshippingnews.com/azerbaijan-offers-lng-supply-on-long-term-basis-to-pakistan/
21. Pakistan - Country Commercial Guide. Renewable Energy. International Trade Administration. https://www.trade.gov/country-commercial-guides/pakistan-renewable-energy
22. Azerbaijan and Pakistan extend energy cooperation. Information agency REPORT, 21.06.2016. https://report.az/ru/energetika/azerbajdzhan-i-pakistan-rasshiryayut-sotrudnichestvo-v-sfere-energetiki/