Memorandum signed about interaction between the Caspian Institute for Strategic Studies and Belarus Institute for Strategic Research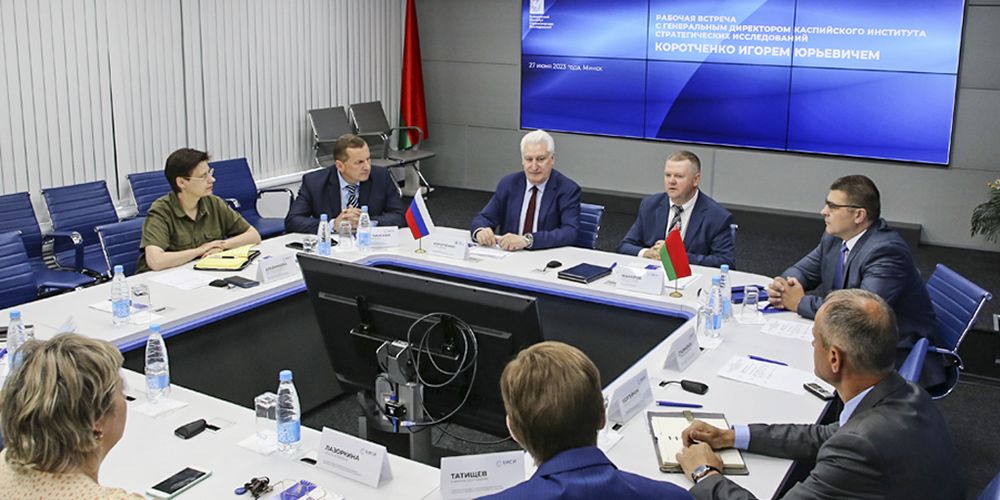 photo: BISR
27 June 2023
During the working meeting of the leadership and analysts of the Belarusian Institute of Strategic Research (BISR) with Igor Korotchenko, the General Director of the Caspian Institute for Strategic Studies (CISS), in Minsk, the Memorandum of Interaction was signed.
As was noted by Oleg Makarov, the BISR Director, the signed document provides for exchange of expert opinions on the most relevant issues, joint participation in various events and other vectors of cooperation. «Our friendship has been validated by many years of cooperation. For several years, we have been interacting, discussing, supporting each other at various media platforms. From our side, we are ready to share our experience. We are very much interested in the work of the Caspian Institute for Strategic Studies, as we have seen very few think tanks, which have so clearly defined regional orientation», Oleg Makarov emphasized.
Igor Korotchenko called the Belarus Institute for Strategic Research the leading think tank of Belarus and one of influential international analytical institutes. According to him, signing the Memorandum opens new opportunities for interacting in the sphere of expert diplomacy. The CISS objective is to provide informational and analytical support of Russia's turn to the East.
«In the sphere of expert interaction with BISR, we plan to share experience, to promote, among other things, hi-tech export from Belarus entering the new markets. Our joint efforts, help, trust-based relationship, exchange of analytical materials and accurate estimates will help our countries, our governments and our Presidents to successfully implement the policy targeted at the national interests' advocacy», Igor Korotchenko noted.