Turkey's air defense system: current state and trends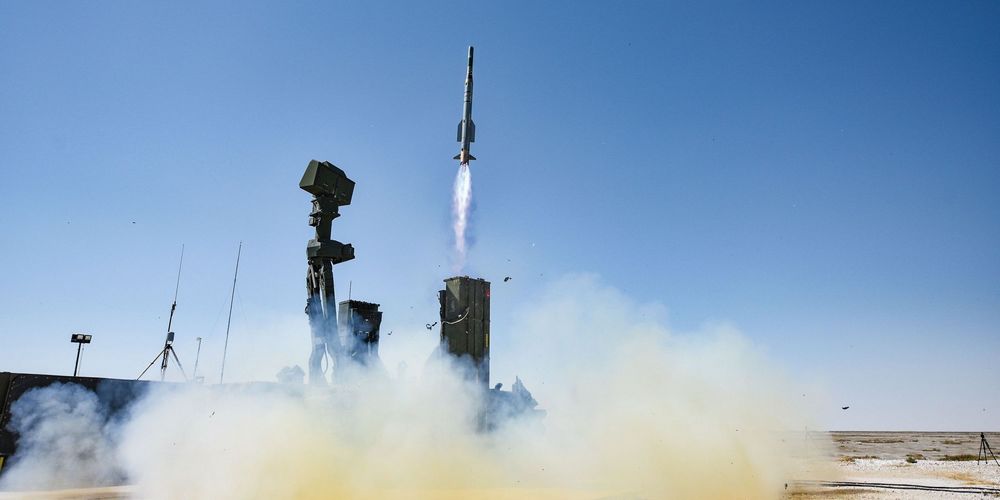 photo: defenceturkey.com
19 April 2022
Evaluation of the operational capability of the armed forces of any state is quite difficult, because it takes into account many factors and conditions. And yet, the Turkish Armed Forces, if we do not take into account nuclear weapons, are considered the second most capable among NATO member countries (after the United States).
Enormous potential of the Turkish Land Forces, some of the most capable Turkish Air Force and Navy, as well as a real-life combat experience enable the country to rightfully be among the Top 5 European armies. However, the Turkish Armed Forces have a clear gap and their main vulnerability is weak Air Defense Forces, which are unable to effectively counter potential air threats.
Main problem: lack of modern SAM systems
Even the NATO command believes that the Turkish air defense assets do not reliably cover the airspace, especially at low altitudes, of the air defense zone of the NATO Integrated Air Defense System, which includes the Turkish national air defense system. At the same time, its main problem is the lack of modern weapons and military equipment, most of which were previously purchased by Ankara from the United States, Great Britain and Israel.
Turkey's national air defense system is part of the NATO Integrated Air Defense System's Southern Air Defense Area. The overall direction of air defense is carried out by the Commander of the country's Air Force through the Air Force and Air Defense Command Headquarters. The air defense assets are controlled from the Air Operations Center located at Eskisehir Air Base.
This Center functions as part of the unified NATO Air Command and Control System (ACCS) designed to control airspace, alert the NATO command about an air attack and control the combat assets of the Alliance's integrated air defense system.
Turkey's airspace is controlled by a network of ground-based fixed and mobile radar control, surveillance and warning posts deployed in two lines along the coast and the eastern border of the country. Up to 60 radar posts are equipped with Turkish-made Kalkan, licensed MPQ64 Sentinel and TRS-22XX, German DR-171/172 (MPDR-90), US AN/FPS-117 and HR-3000 HADR radars, as well as Selex RAT-31DL and RAT-31SL radars from Leonardo (Italy).
In general, up to 3,000 aerial targets (including small-sized and low-flying ones) can be simultaneously detected and target designations for 150 targets can be provided. At the same time, there is insufficient radar coverage of the airspace at low altitudes. Air defense firing units are currently part of both the Turkish Land Forces and Air Force.
The Turkish Land Forces are equipped with very short-range air defense (VSHORAD) systems: 70 Atilgan systems with FIM-92 Stinger MANPADS; 78 Zipkin systems with FIM-92 Stinger MANPADS, 146 FIM-92 Stinger MANPADS.
The Atilgan VSHORAD system is based on the US M113A2 tracked APC chassis and is the most advanced air defense system adopted by the Turkish Armed Forces (used by Turkey in the Idlib de-escalation zone):
main armament – 8 MANPADS, which are licensed copies of the US FIM-92 Stinger;

additionally equipped with a 12.7 mm machine gun for self-defense;

capable of operating both independently and in a coordinated command network with other air defense assets.
The Zipkin PMADS (Pedestal-Mounted Air Defense Missile System) was indigenously developed by Aselsan on the basis of requirements of the Turkey's Undersecretariat for Defense Industries (SSM). The system is fully automated and includes:
launcher with four FIM-92 Stinger missiles;

coaxial 12.7 mm machine gun;

electro-optical system operating in IR and UV bands;

laser rangefinder;

IFF system.
The PMADS provides remote control at a distance of up to 50 m from the launcher. Four additional missiles are carried by vehicle in a transport and launch container. For the Turkish Armed Forces, all Zipkin components are mounted on the chassis of a Land Rover Defender 130 4x4 off-road vehicle. Its crew consists of two men. The system can be transported by C-130 and C-160 aircraft.
In addition, the air defense units of the Turkish Army Land Forces have:
about 250 Oerlikon GDF-001/GDF-003 anti-aircraft guns that have been upgraded to GDF-005 level;

20 mm Oerlikon GAM-D01 twin towed anti-aircraft guns with a detachable wheeled carriage;

about 400 20 mm Rheinmetall Mk 20 RH-202 twin anti-aircraft guns;

FIM-92 Stinger MANPADS.
In addition, operational trials of the Korkut self-propelled anti-aircraft gun (SPAAG), designed by Turkish company Aselsan on the basis of the ACV-30 IFV, have already been completed. The first series-produced models are being fielded to the Turkish Armed Forces.
The Korkut system includes two types of self-propelled vehicles: Korkut KKA command vehicle and directly Korkut SSA SPAAG vehicle. A Korkut unit consists of three SPAAGs and one command vehicle.
The SPAAG vehicle is equipped with two 35 mm Oerlikon KDC-02 automatic cannons produced in Turkey under a Swiss license. The 35 mm twin automatic cannons have a total rate of fire of 1100 rounds/min. The ammunition load includes several types of rounds with shells for various purposes. An acquisition radar is mounted on the turret roof along in the rear along with an electro-optical system (thermal imager and daytime TV camera) on the right side for searching and tracking targets. With their help, the SPAAG independently provides target data update and gunnery data. The SPAAG's target detection range is 30 km.
According to the contract, a total of 40 Korkut SSA and 13 Korkut KKA vehicles should be delivered to the Turkish Armed Forces by 2024.
The Turkish Air Force has 4 MIM-14 Nike-Hercules battalions, 2 Rapier SAM battalions and 8 MIM-23 I-Hawk batteries which cover the western coast of Turkey and the main air bases. All these assets have long been obsolete and are in fact relics of the Cold War.
For quite a long time, Patriot SAM batteries were deployed on the territory of Turkey. However, by the end of October 2015, they were withdrawn due to the termination of the NATO mandate. Negotiations with the allies on the possible acquisition of these systems failed.
Focus on new indigenous weapon developments
It is not surprising that for more than 10 years Turkey's military and political leaders have been showing a clear interest in strengthening the country's security by improving the national air defense system, which will be able to provide protection from a possible air strike if he situation in the region deteriorates. At the same time, there is a lack of interest in modernizing the air defense system through the purchase of anti-aircraft missile systems abroad. It was in this regard that a strategy for the development of the defense industry until 2023 has been elaborated. The development of the national defense industry in order to gradually reduce technological dependence on foreign manufacturers and increase the export capabilities of its own defense industry became its priority.
As part of this strategy, since 2008, Turkey has launched 3 programs for the development of its indigenous air defense systems:
T-LALADMIS (Turkish Low Altitude Air Defense Missile Systems);

T-MALADMIS (Turkish Middle Altitude Air Defense Missile Systems);

T-LORADMIS (Turkish Long-Range Air Defense Missile Systems).
The first two programs have resulted in the Hisar-A and Hisar-O air defense missiles systems developed by Turkey's companies Roketsan and Aselsan, respectively. It was planned that the Hisar-U air defense system would be developed under the third program, however, due to delays in the development of even short- and medium-range systems, it was decided to hold a tender for the purchase of long-range air defense systems, which China won in the late 2013 with its HQ-9 (FD-2000) air defense system. However, the tender was subsequently annulled by Turkey.
And after the coup attempt in July 2016, in which Turkish Air Force generals played a key role (having curators from the United States behind them), the issue of the possible purchase of the Patriot air defense missile system was removed from the agenda at the time. There was practically no alternative to the option of purchasing the S-400 air defense system by Turkey, which was carried out in September 2017 with the conclusion of a contract worth $2.5 billion for the supply of four battalions of this system.
The contract was unprecedented – Turkey, having the second-largest army in NATO after the United States, has not only opted for Russian long-range air defense systems, but also has not backed down from this decision, despite numerous intimidation and threats from both Washington and the North Atlantic Alliance.
Step-by-step progress
Returning to the first two programs, it is worth noting that Turkish developers have made some advances, although the development of both air defense systems has clearly been delayed. Currently, the Turkish Ministry of Defense and contractors are focusing their efforts on the short-range anti-aircraft system. They are going first to complete the Hisar-A project and only then engage in the development of the Hisar-O SAM system, using the experience gained during the development of the previous system.
In October 2019, the procurement department of the Turkish Ministry of Defense confirmed the completion of the first indigenous short-range air defense system. In parallel with this statement, Turkish President Recep Tayyip Erdogan and the head of the Turkish Undersecretariat for Defense Industries, Ismail Demir, said that Ankara would place an order for their serial production.
Fielding of the Hisar-A systems began in 2021. Aselsan and missile manufacturer Roketsan are engaged in their production. The contract provides for the supply of 18 Hisar SAM systems and an option for another 27 systems.
The Hisar-A mobile all-weather short-range SAM system is designed to protect military bases, ports, facilities and troops from air threats. Its targets are military aircraft, attack helicopters, guided missiles and unmanned aerial vehicles (UAVs).
The Hisar-A SAM system can operate both independently and as part of a battery. In this case, each fire battery will include a radar controlled by a fire control system developed by Aselsan and 3-4 launcher vehicles.
The SAM system has a modular design and an open architecture in order to use future technologies. The launcher vehicle with four raising vertical launch containers is mounted on a new FNSS ACV-30 tracked armored chassis. The launcher vehicle is equipped with a mast-mounted target acquisition radar, identification friend or foe (IFF) system, electro-optical/IR surveillance system, combat control and fire control system.
The claimed performance characteristics of the Hisar-A include: the target engagement range is from 2 to 15 km and target engagement altitude is from 30 meters to 5 km.
The Hisar-O SAM system is designed to provide air defense of stationary/mobile forces and critical facilities against tactical aircraft, helicopters, UAVs, cruise and guided missiles.
The system was developed to be compatible with the NATO Integrated Air Defense System, can operate in the Link-16 communication system and has an open architecture for the use of future technologies. The Hisar-O SAM launcher is mounted on the chassis of a Mercedes-Benz 2733 cross-country truck and is equipped with six missiles and a telescopic antenna mast.
The surface-to-air missiles (SAM) of both systems feature a high level of commonality. They are equipped with a two-stage solid rocket motor (with different power for each SAM system), an imaging infrared seeker from Aselsan, a high-explosive fragmentation warhead and a fuze (developed by the TUBITAK Defense Industries Research and Development Institute). The missiles use midcourse inertial navigation with a RF data link, and terminal guidance using an imaging infrared seeker.
In addition to the SAM system, a remote workstation for remote control of the missile launcher vehicle has already been developed and is being tested. The main characteristics of both SAM systems are shown in Table 1.

The first prototypes of the Hisar-U air defense system with a range of 100-120 km should be ready in 2022, and their entry into service is planned for 2025-2026.
Thus, both now and in the foreseeable future, the S-400 air defense system will remain the most powerful and advanced air defense system for Turkey. Objectively, the S-400 is the best choice among long–range air defense systems with anti-missile capabilities. And almost the entire range of aerospace attack weapons is typical targets for this system.
How to cover the S-400?
In turn, the massive use of unpiloted air attack weapons, including unmanned aerial vehicles, precision guided weapons (PGW) and air-launched weapons has recently become deservedly regarded as the most important trends in the development of air attack weapons. And the share of PGW assets in strikes has been inexorably growing in recent years.
The use of UAVs can radically change the situation on the battlefield, which was clearly demonstrated during the conflict in the same Libya. At the same time, a number of Turkey's neighboring countries are armed with reconnaissance and heavy attack UAVs capable of operating at altitudes exceeding the engagement capabilities of the latest Turkish Hisar-A air defense system. Their data are shown in Table 2.

UCAV (Unmanned Combat Aerial Vehicle);
HALE (High Altitude Long Endurance);
MALE (Medium Altitude Long Endurance).
All these drones, operating at high altitudes, are clearly beyond the Hisar-A SAM systems' capacity, and therefore these systems will not be able to protect the S-400 air defense systems not only from tactical and strategic reconnaissance UAVs, but also from heavy combat drones. A number of them (Elbit Hermes 900 and Karrar) are designed specifically to suppress air defenses.
Loitering munitions (LM) combine the advantages of a UAV and a guided aerial bomb (GAB). They are excellent for performing tasks that require operational actions in a rapidly changing combat situation and, first of all, for defeating electronic facilities and SAM systems that prevent the enemy from performing one of its main combat missions – gaining air superiority.
To this end, loitering munitions are being developed by companies from a number of technologically advanced countries of the world. And for promoting them to foreign markets, their developers use various aggressive methods, including posting videos with the destruction of opposing air defense systems on the Internet and/or demonstrating them at international defense exhibitions.
Thus, the press service of Israel Aerospace Industries (IAI) posted a promo video on the web telling about its new Mini Harpy loitering munition. In the video, a mobile radar, almost identical to the 96L6E all-altitude acquisition radar on the MZKT-7930 chassis used in the Russian S-300 and S-400 SAM systems, was chosen as a target for the drone.
When faced with a technologically advanced enemy armed with such air weapons as loitering munitions and guided aerial bombs, as well as decoy targets, and in the event of a saturation raid, the Hisar-A SAM system will also be ineffective. Having only 4 ready-to-fire missiles on the launcher, and besides, a relatively low probability of intercept (0.6), the SAM crews will run out of all missiles already against the first 2 or 3 targets, which means they will be practically unable to cover the S-400 in case of a massive strike.
A low cross-range capability of the Hisar-A SAM system (5 km) additionally imposes serious restrictions both when firing at maneuvering targets and on the footprint area.
The present-day surface-to-air battle is also characterized by the frequent change of firing positions and making marches to new missile-launching areas. As a rule, it is at these moments that SAM systems become particularly vulnerable to air attacks. At the same time, no modern Turkish air defense system has a fire-on-the-move capability. Such systems, except for the Russian Tor-M2U and Tor-M2, do not exist in the world at all. And only they have proved their capability to fire on the move and engage targets at while moving at up to 40 km/h.
A striking example of the adequate point defense architecture is Russia's Khmeymim Air Base. The base's layered air defense system is reasonably balanced and provides an increase in the density of air defenses as air attack weapons approach the covered facility. Air defense is provided by a mixed grouping in which the actions of the S-400 long-range air defense system are supported by mutually complementary Pantsir and Tor systems operating at different frequencies, in different bands, according to different combat algorithms and using different weapons (anti-aircraft guided missiles).
It has long become clear to military specialists that long- and even medium-range air defense systems are not the optimal means of protection against low-flying, small-sized and low-signature air attack weapons and especially PGW submunitions. The use of these assets is ineffective, costly and unjustified by their purpose. And short-range SAM systems are most optimally suited to combat them. It is these systems that have the best balanced detection and engagement zones, reaction time and the cost of the shot (target kill).
The Tor-M2/E2 SAM system is precisely such an asset. The system was originally developed to counter PGW. It has proved its capabilities not only at proving grounds, but also during real combat operations. According to Lt. Gen. General Alexander Leonov, Chief of Land Forces Air Defense of the Russian Armed Forces, Tor missile systems have shot down more than 45 drones during the Russian operation in Syria. Comparative data on the available characteristics of the Hisar-A and Tor-M2 SAM systems are shown in Table 3.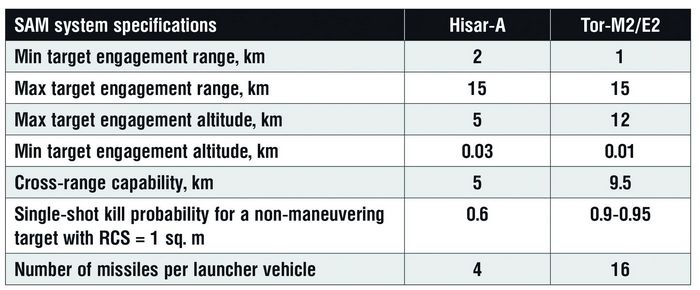 High firing capabilities (one launcher vehicle carries 16 missiles, which can be fired at intervals of 3 seconds); simultaneous engagement of 4 targets; high target kill probability; ability to supply the SAM system on various types of chassis (tracked, articulated tracked all-terrain, hull-type and wheeled); the availability of a modular version (which can be mounted on any chassis, carried even by helicopters of the appropriate load-lifting capacity, and used even from the deck of a ship or a railway platform) and the fire-on-the-move capability are just some of the features of the Tor-M2/E2 SAM system.
Among other things, the Tor-M2/E2 SAM systems can not only operate as part of an integrated air defense system and be controlled by the S-400's command post, but control slave assets themselves as well.
The latest developments of the Tor designers provided the Tor-M2/E2's interoperability with modern short-range air defense systems and MANPAD cueing systems (bypassing automated control assets). In addition, two "slave" air defense assets are provided with capability to directly control each Tor vehicle in repelling enemy air strikes.
Conclusions
Summarizing the above and taking into account the continuing trend in the leading countries of the world towards the predominant use of unmanned aerial vehicles in the enemy's air defense zone, an increase in the launch range of airborne guided weapons, as well as growth in the arsenals of strike missiles and especially precision guided weapons, an obvious and unambiguous conclusion suggests itself. In order to counter current and emerging air threats, the share of short-range air defense assets in the grouping should steadily increase.
To counteract these modern attack weapons, we need means specially developed for this purpose. And the thesis about point air defense "in the overall air defense system" is viable only when there are such special assets in this system, originally developed and planned specifically to combat enemy precision guided weapons.